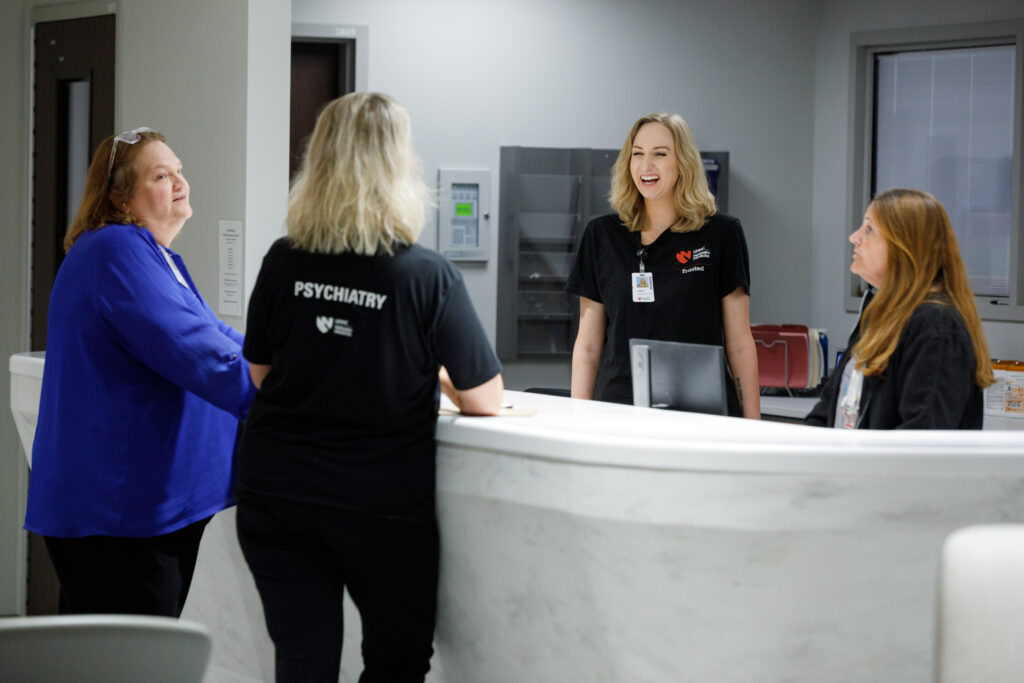 The Psychiatric Emergency Services (PES) unit continues to grow as it celebrates its third anniversary.
In October 2020, during the COVID-19 pandemic, the PES received its first guest seeking emergent mental health care. Since then, more than 5,600 visits have occurred, allowing individuals to receive psychiatric care in a unique space designed to meet the needs of those served.
Ashish Sharma, MD, is the medical director of the PES. Claudia Moore continues to be the associate medical director. Amy Mead, MBA, is the director of emergency, psychiatric emergency, and observation services for Nebraska Medicine. Jennifer Sparrock, LCSW, LIMHP, has been the PES manager since the unit opened.
"While the unit's mission remains the same, growth and improvement also have been realized along the way," Sparrock said. "The wait time for transfer from the Emergency Department has decreased by over 50 percent, allowing individuals to receive treatment and intervention in a timelier manner."
Additionally, PES team members, inclusive of psychiatrists, mental health practitioners, nurses, and peer support specialists, can provide services to individuals while they are still in the emergency department. Most recently, in October of 2023, a 'Fast Pass' pilot program was launched to further assist in rapidly screening and assessing those presenting in our emergency department with minimal risk for complicating medical considerations with a goal for transfer in less than one hour.
Sparrock said the collaboration with community partners has been essential in making a psychiatric emergency system run as smoothly as possible while providing the right services at the right time for those in need.

"This includes acute care hospitals in the Omaha area such as Douglas County Mental Health Center, Methodist Fremont and Jeanine Edmundson in Council Bluffs, Iowa," Sparrock said. "Additionally, collaboration with community-based organizations such as the Salvation Army, Community Alliance, and local shelters has allowed many individuals (52 percent) to safely discharge to the community, thereby preventing unnecessary hospitalization."
In addition to the treatment and services provided in PES, it has also become a well-respected site for the many learners within our academic medical center.
"Each month, PES hosts medical, pharmacy, social work, and nursing students as well as psychiatric and family medicine residents. Providing these types of learning experiences can help pique interest in psychiatry and behavioral health professions," Sparrock said.
Sparrock said It's been an incredible three years.
"We have an amazing team of professionals all committed to providing the right care at the right time for someone who is in need of a safe, compassionate environment."