This summer, the UNMC Department of Psychiatry Residency Program started a training partnership with Columbus (Nebraska) Community Hospital and Columbus Psychiatry Clinic.
In July, fourth-year resident Emily Royer, MD, began work at the outpatient clinic under the supervision of Venkata Kolli, MD. This month, Matthew Kelly, MD, started his rotation in Columbus.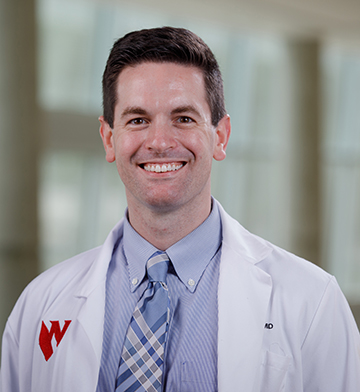 Dr. Kolli said establishing the residency training program benefits the hospital and the community of nearly 25,000 people.
"As a rural community, recruiting good physicians has always been a struggle," Dr. Kolli said. "This program will lead to more successful partnerships and continue to benefit the Columbus community. Furthermore, having a third physician in the clinic will help reduce mental health access issues and lower health disparities."
Dr. Royer was the first of three residents to join the clinic as part of the UNMC residency training program. As a required fourth year rotation, each resident will complete two months of training in Columbus. The resident will work side by side with Dr. Kolli to perform diagnostic evaluations, psychotherapy and treatment, and help manage patients' medication. The program also helps the hospital train the next generation of psychiatrists, which ensures access to high-quality care, close to home. Program Director Daniel Gih, MD, adds "this great partnership should expose our residents to working with the challenges of impoverished populations, stigmatization of mental health, and limited provider options and resources. With additional time, the partnership will assist in recruitment efforts of our graduates to rural communities throughout the state."

"We are fortunate to have UNMC, an outstanding institution of learning, as a partner,"
said Korie Whitmore, Director of Clinics for Columbus Hospital. "It is a pleasure and honor to collaborate with such highly regarded and educated individuals. We are extremely excited to work with a group that shares the common goals of growing talented psychiatrists to benefit future generations."
Dr. Royer worked at the Columbus Outpatient Clinic from July to August 2023.
"I was impressed with how much the clinic has grown and done for the community. Since opening four years ago, they have built a wonderful team culture, fostered mutually beneficial collaboration with primary care providers, and provided access to mental health care to thousands of patients," Dr. Royer said.
UNMC Adult Psychiatrist Erin Kindred, MD, has also mentored Dr. Royer on this rural psychiatry experience. The Behavioral Health Education Center of Nebraska (BHECN) also helped get the partnership off the ground.
"This is a valuable rotation for our program," Dr. Royer said. "Learning with Dr. Kolli has been wonderful, and I was fortunate to have some clinical and mentorship time with Dr. Kindred as well."
Although Dr. Royer has ended her training at the clinic, the partnership continues. Fellow fourth-year and chief resident Matthew Kelly, MD, has started training this month in Columbus.
Dr. Kelly has a particular interest in general outpatient psychiatry and looks forward to his time in the clinic.
"Rural psychiatry is enjoyable because you have the opportunity to learn more about your patient and the community," he said.