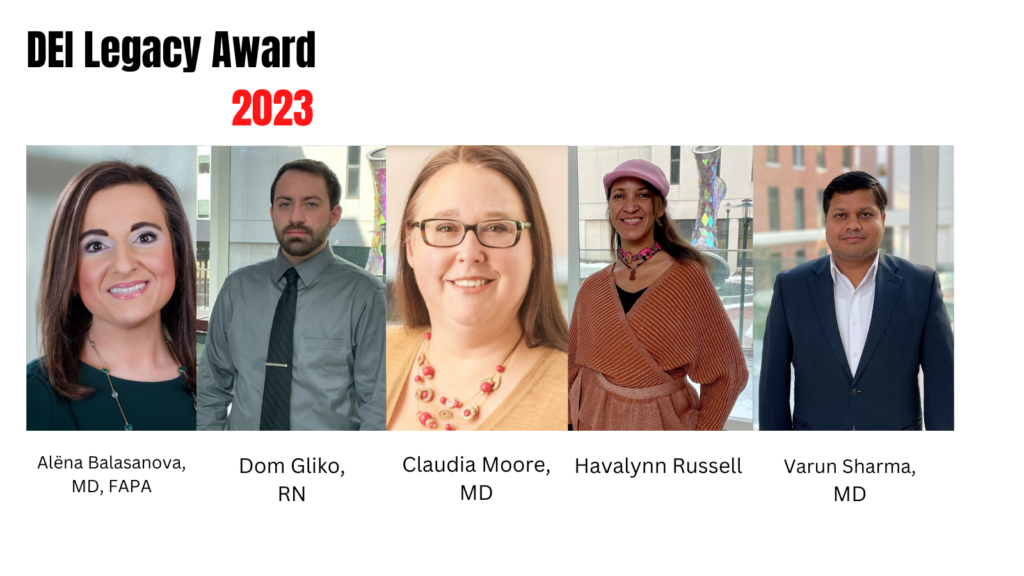 Last month, the Department of Psychiatry handed out the DEI Legacy awards. The award is presented to faculty, staff, or trainees who exemplify a commitment to diversity, equity, and inclusion (DEI) in service, teaching, and/or advocacy for a long-lasting legacy.

This year, the awards were handed out to Alëna A. Balasanova, MD, FAPA; Dom Gliko, RN; Claudia Moore, MD; Havalynn Russell; and Varun Sharma, MD.

Dana Raml, MD, Adult Outpatient Division Director, said Dr. Balasanova works tirelessly to fight the stigma against substance use disorders.

"She is a prominent educator and helps educate students on the importance of language when discussing substance use disorders and promotes humanity in an often-overlooked patient population," Dr. Raml said.

Kathleen Spurgin, LMHP, said Gliko had played a key role in creating a welcoming and clinically excellent environment for our gender-diverse patients.

"Dom makes a special effort to not only attend trainings and access outside resources but to make these skills and resources accessible to the rest of the department," Spurgin said. "He has also made the time to have 1×1 conversations with me when I need feedback for my gender-diverse patients. He is kind, approachable, and passionate about extraordinary care."

Maggie Cote, RN, is a nurse supervisor with Psychiatric Emergency Services. She said Russell is one of the most inclusive people employed at Nebraska Medicine and takes all opportunities to advocate for and educate others."

Dr. Moore also received the PES Partnership and Escape Fire Safety awards. In addition, she developed a DEI elective that expanded opportunities for students to engage in relevant DEI curriculum in their MS4 year.

"This commitment can potentially expand DEI amongst a new generation of physicians," said Dr. Raml.
Ali Delizza, who received the DEI Legacy Award in 2022, nominated Varun Sharma, MD, for the DEI Legacy Award.

"Since joining our team, Dr. Sharma has quietly exemplified allyship and advocacy in his day-to-day patient care and leadership. He is always one the first to respond to opportunities to learn more about supporting others, and he regularly looks for ways to sponsor and lift up women. He is not loud about it, but it has become very clear to many of us what a great ally, advocate, and friend we have in Dr. Sharma."
Dr. Sharma also received the Reba Benschoter Inspirational Leadership Award.