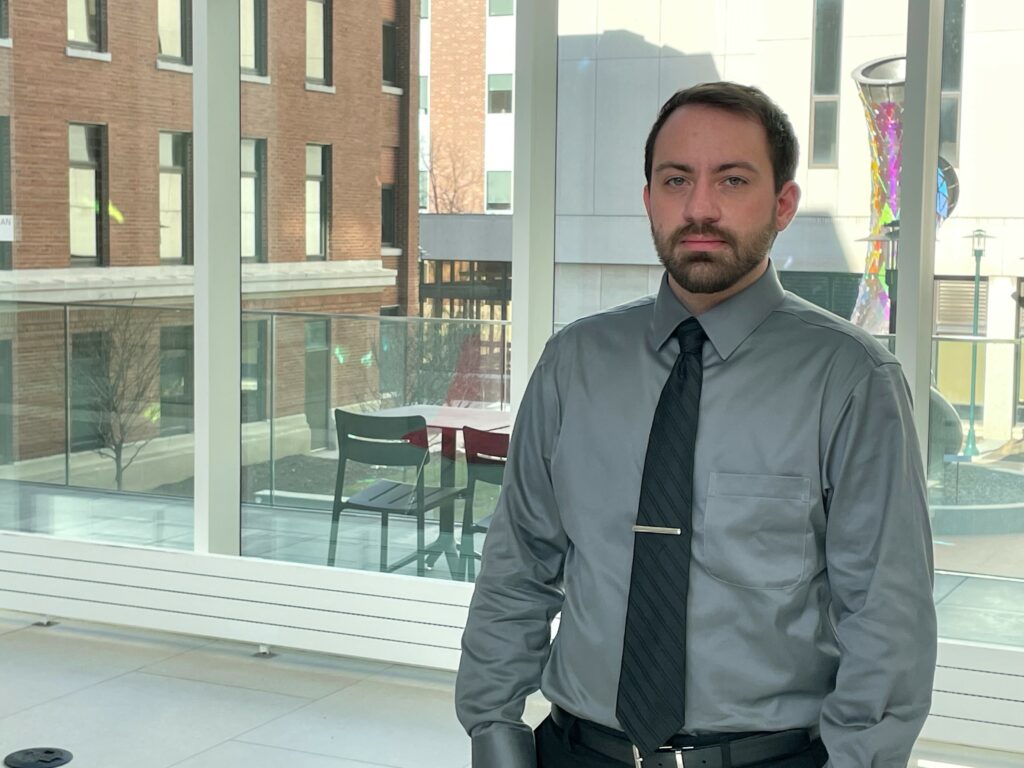 Dom is a clinic nurse in the Adult Outpatient Psychiatry Clinic, primarily coordinating care for the Treatment Resistant Depression clinic and Reproductive groups, but also with the SCC Transgender clinic. Dom has been a practicing nurse for almost six years and in healthcare for close to ten years.
What made you look at a career as an RN?
Generally, I state that I chose to be a nurse to save lives, but I chose to be a psychiatric nurse to show that life is worth living. The satisfaction of making a positive difference in someone's life is truly the greatest reward. However, I specifically chose to go into nursing with the intent of becoming a PMHNP. I felt gaining the experience of bedside nursing would better prepare me, in the future, for thoroughly assessing and building rapports with my patients in order to provide exceptional care.

What made you look at working in the Department of Psychiatry?
I've worked in a variety of different behavioral and mental health settings, including care facilities for adults and children with intellectual disabilities, state-operated institutes, inpatient (both acute and special care units, child/adolescent, adults and geriatrics), and originally joined Nebraska Medicine as one of the original RNs that piloted the opening of the PES unit. I requested to transfer to the outpatient clinic primarily to better regulate a work-life balance as I was finishing my BSN degree amongst other major life events (wedding, building a home, switching to a day schedule, etc.). However, I've since come to the conclusion that I enjoy this aspect of patient care the most. I do certainly miss aspects of bedside nursing, especially the stabilization of patients in crisis. But having a role in the continuity of care and preventing crises before requiring hospitalization has been incredibly rewarding. Not to mention getting to work directly with providers who are more than happy to further educate me.
How did it feel to be recognized by your co-workers with the William H. Roccaforte Citizenship Award?
I certainly felt incredibly honored to be recognized and awarded the William H. Roccaforte Citizenship Award. Navigating the dynamic situation of the pandemic has been, needless to say, challenging. The ongoing nursing shortage certainly adds to the seemingly growing list of stressors. But having the support from my colleagues has greatly contributed to my resiliency and motivation to continue thriving and providing the highest quality of possible care I'm capable of. I've always prided myself in the thoroughness of my work, but with the added strain of greater coverage needs, I often feel ineffective. Award or not, I want to stress just how impactful the smallest of gestures I've received from providers and care staff alike have been to remind me and the rest of the nurses, no doubt that our efforts are still recognized, appreciated, and are meaningful to our patients and community. I genuinely cannot express my gratitude enough for the growth, both personally and professionally, being a part of this department has brought me.
What are some of your hobbies?
Outside of work, I'm an avid adventurer. I particularly enjoy landscape and wildlife photography, so my wife (Danielle, who is also a psych nurse) and I travel regularly to various places (although many of our plans have been canceled or postponed due to the pandemic). I also relax with reading, watching movies, puzzles and constructing complex collector Lego sets (they are not just for kids!) I also have three Australian shepherds and one cat (Sebastian, Apollo, Orion and Gravy -respectively) that certainly keep me busy. But by far my absolute favorite thing to do is have breakfast dates with my wife.