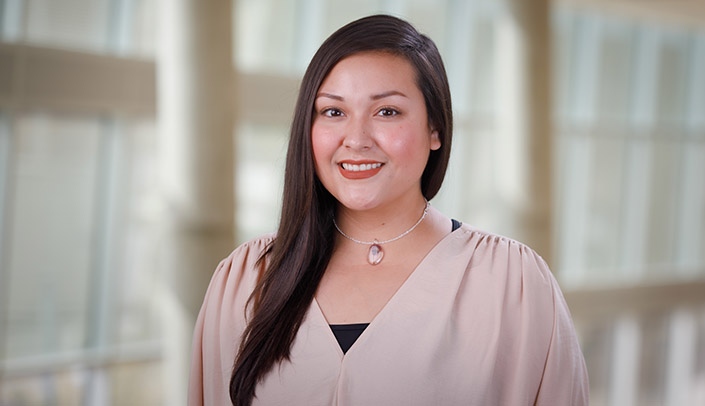 Jeysel "Jhoanna" Olmos was hired in June 2020 as the program associate for the newly created Office of Inclusion, headed by Adult Psychiatrist Dr. Sheritta Strong.
What made you apply at UNMC?
After graduating with my undergrad, I committed to applying only to places that allowed me to give to, or serve others. I remember my freshman year at University of Nebraska Kearney. I had a speech professor that opened up her class with her personal mission statement. That was such a foreign concept to me at the time, but it was so formative for me. It was then that I began to build paradigms around what I valued, what I wanted out of life, and what I hoped to have accomplished with the time I am blessed with. When I was looking for positions, I looked for roles that would allow me the opportunity to live and work along the lines of my own life's personal mission statement: To pour love into the people and the things that I touch. When I saw that I might get the chance to work under UNMC's chief diversity officer, I knew that I would learn so much—and that I would be able to support critical work—that of supporting those who actively progress equity and inclusion for all humans. I was privileged to land an incredible position where I get to do what I love. There is not a single day that I am not grateful to work as our inaugural office's inclusion program associate alongside Dr. Sheritta Strong and our many collaborators.
What is the role of Office of Inclusion?
Our office upholds institutional excellence by providing educational and leadership opportunities in a safe environment. We pursue the work today that creates a diverse, culturally humble and empowered workforce, tomorrow. We provide advocacy for groups and initiatives that are beneficial to the institution and our communities, provide developmental opportunities (both formal and informal), and work with a network of DEI officers and agents across campus to progress UNMC in the realm of diversity, equity and inclusion. We're a hub for DEI-minded groups and individuals to come to for feedback, support and collaborations— everyone and anyone is welcomed to join us in this space no matter where they are on their individual journeys.
What are some future goals of the Office of Inclusion?
There are so, so, so many that we've set our sights on for the long term that touch everything from recruitment/retention/admissions, culture/climate, curriculum, workforce empowerment, etc. In the immediate future, however, we look to continue building out the scaffolding for meaningful and sustainable progress. That means continuing to develop processes for our office and its initiatives, expanding the office's working capacity, further developing formal DEI networks, further building out campus-wide programming. Additionally, finding resources of all kinds for the people on campus that are moving us forward, educating/developing our own skillsets internally as an office, and finding ways to maneuver around or begin to break down barriers that may have been blind spots for us all in the past.
What are some of your hobbies?
I love to sing; hit me up for karaoke anytime. I also love social games (board games or console, I do not discriminate). I'm an absolute podcast junkie and I am obsessed with anything psychology, history, organizational development, philosophy, leadership, and systems thinking. I love to get to know and learn from others—I operate from a place where I understand that everyone, no matter their age, role or other identity has something valuable to teach me and gifts to share with the world. In that sense, I love to meet new people and make new friends. I have recently picked up roller skating, so if you catch me wobbling and falling about in Omaha, do say hello!