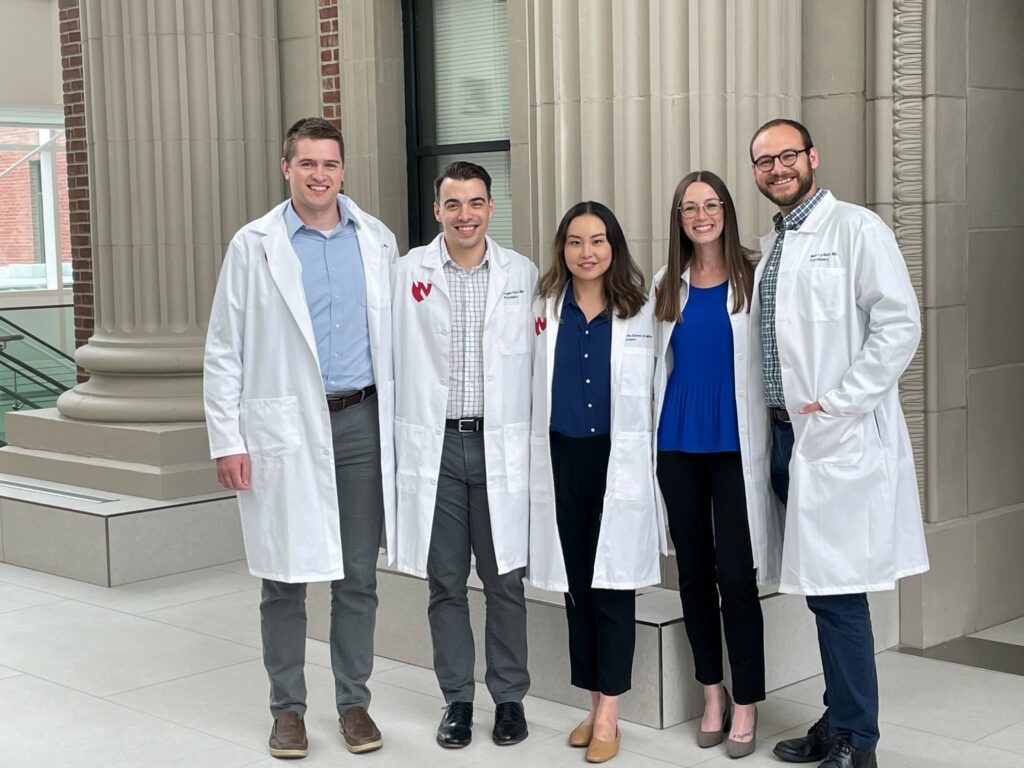 The Department of Psychiatry's second residency class has arrived and begun their training.
Thomas Bainter, MD; Logan Ford, MD; Max Lydiatt, MD; Bryndis Grissom, DO, and Tianqi (Nina) Luo, DO, started their internships on July 1 with their primary care rotations. Before settling into psychiatry, the residents will do one month of Family Medicine, one month of Emergency Medicine, and two months of Internal Medicine and two months of Neurology.
"The first few weeks have been stressful, but very rewarding," said Dr. Bainter. "UNMC has so many great teachers, and I've already gained so much knowledge and confidence. I'm also humbled to be able to train with such an incredible group of people as co-residents. Getting to know them has helped make the transition much smoother than I expected."
Dr. Lydiatt said he couldn't have asked for a better first month.
"I'm on inpatient neurology and the off-service residents have been incredibly helpful and friendly, and I feel like I'm able to do a lot without being overwhelmed," he said. "It's also great to be able to spend time with all my co-residents. We've had time to hang out a bit after work and it's always great to see them on Wednesday afternoons for didactics. We get along really well and they're all great people, so I'm excited to be spending the next four years with them."
Both Dr. Bainter and Dr. Lydiatt attended UNMC for medical school, so they were familiar with Omaha when they matched at UNMC. Dr. Luo had never stepped foot in Nebraska when she matched with the program. Fortunately, she said she has enjoyed exploring Omaha as a newcomer and has been pleasantly surprised by everything the city offers.
"I've been able to hang out with my co-interns outside of work, and they're such kind, wonderful people," Dr. Luo said. "Starting intern year is stressful but so much better when you can talk to four other people going through the same thing. I've only had off-service rotations so far and am really looking forward to starting psychiatry rotations in January."
Rather than utilize all-virtual learning for their didactics, the residency leadership decided to have all residents attend their weekly lectures and presentation in person to aid cohesion and team building.

"COVID-19 has certainly strained our ability to have normal in-person interactions, but we hope the provided lunches and live teaching will make the residents feel like they are full members of our department and academic community," explained Dr. Daniel Gih, Residency Program Director.