Howard Liu, MD, MBA, has finished his one-year term as president of the Association of Directors of Medical Student Education in Psychiatry (ADMSEP). This national group consists of leaders of psychiatric education for first- to fourth-year medical students.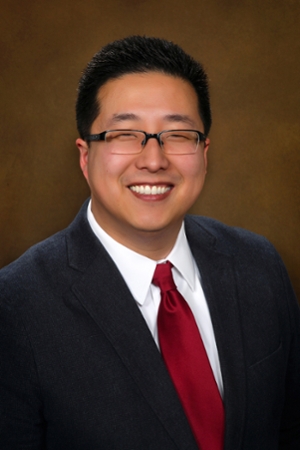 Previously, Dr. Liu, Chair of the UNMC Department of Psychiatry, was the president-elect of ADMSEP as well as the organization's treasurer and secretary/newsletter editor. He said running the organization during the Covid-19 pandemic required a lot of communication between the organization's leadership and its members.
"We faced several challenges and to tackle those challenges we had to rally the team," Dr. Liu said.
Two of the main challenges were moving the group's annual meeting online and ensuring the organization increased membership even when numerous medical education institutions were losing money.
"A lot of members were facing financial difficulties because a lot of academic health centers restricted membership funds and travel funds, so they had to pay out of pocket," he said. "We had to show them the value of the organization and why it was worth it."
To make sure communication continued between leadership and its members, Dr. Liu found new ways to connect. He urged his newsletter editor to first send out news twice a month and eventually once a month. Leadership started meeting monthly, and he has asked his committee chairs to increase virtual meetings as well.
"We wanted our members to remember that ADMSEP is one of the most accessible and friendliest educational organizations in psychiatry," Dr. Liu said. "There were a lot of intentional connections, and I feel like it paid off." 

Dr. Lisa Fore Arcand, Professor & Educational Specialist at Eastern Virginia Medical School, followed Dr. Liu as President of ADMSEP.

"The pandemic created very challenging times for our ADMSEP organization and we are so appreciative to have had Dr. Howard Lui lead with his forward thinking, genuine, and sincere leadership style," said Dr. Arcand. "His leadership style enables him to bring out the best in those around him resulting is ADMSEP being in a much better place then we have been despite the pandemic. He leaves very difficult shoes to fill in the presidency!"
The UNMC Department of Psychiatry has had a long history with the organization. Carl Greiner, MD, was president from 2006-2007. The psychiatry department has sent more students, residents, and faculty members than any other program in the past three years to meetings. In addition, UNMC Department of Psychiatry Residency Coordinator Ellie Corbaley joined ADMSEP last year as the group's administrative coordinator.
"I brought her on because we needed a new coordinator, and she has a lot of those skills," Dr. Liu said. "She has done a great job, and she has really helped a lot. She has a lot of expertise, especially with Zoom."
Additionally, Daniel Gih, MD, Director of Education for the Department of Psychiatry, co-chaired the ADMSEP clinical simulation initiative task force. Dr. Dana Raml, Phase III Director in the Department of Psychiatry, sits on the membership committee for ADMSEP. This year, Dr. Liu will sit on the ADMSEP Executive Board as Immediate Past President.