Welcome to Phi Chi Fraternity House!
Phi Chi is a coed medical fraternity that provides a common meeting and living space for students with diverse interests and goals.  As an incoming student, we invite you to consider becoming a part of our outstanding tradition, which is over 120 years old.  We specialize in housing medical students, pooling our resources to make the costs of living as low as possible while maximizing social opportunities.  Along with cheap housing and house meals, membership provides an opportunity for one to form bonds with underclassmen, upperclassmen, and many distinguished alumni who are now practicing physicians and educators at UNMC.
Located at 37th and Dewey Avenue, our home is within easy walking distance of the Michael Sorrell Center, where you will be spending the majority of your time during the next two years.  The fraternity house, previously known as the Metz Mansion, is a historical landmark in Omaha that has been converted into individual rooms capable of housing up to 20 medical students.  Living at Phi Chi is an amazing privilege when one compares it to other living options in the area.  Not only do we pay considerably less through sharing our resources, we also benefit from the camaraderie of living with fellow medical students.
First year students have the advantage of having upperclassmen readily available and willing to provide guidance, direction, hand-me-down textbooks, and helpful studying hints.  When one considers the high costs of medical education, living at Phi Chi offers thousands of dollars in savings with rent as low as $275/month.  This includes all utilities (gas, water, cable, wireless internet, power, trash collection, etc.), an unbeatable deal.  Medical school (the first two years in particular) can be a stressful time.  As a Phi Chi community, we all work together to remove some of the stressors and unwanted distractions of medical school.
While Phi Chi is a social organization, the house is by no means your typical fraternity.  We are focused and driven to excel in our studies, which is the primary goal of all house members.  The house provides a quiet environment and several of our members prefer to study exclusively at the house.  Our members traditionally perform exceptionally well on both USMLE Step 1 and Step 2.  In between all of the hard work, the house sponsors several social events that we strategically schedule around exams.  Phi Chi members study hard and play hard, but we never think about one while doing the other!  Please take your time to peruse our website and schedule a time to tour the house as early as possible (spots fill quickly, and room selection is prioritized by the date your deposit is received)!
We look forward to meeting you!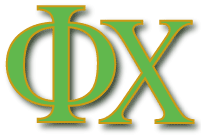 Sincerely,
Phi Chi Members