"The History of the Omaha Medical College", an interactive digital exhibit, is now on display on the 8th floor of the library. 
The Omaha Medical College (OMC) was a proprietary medical school founded in 1881. The first class was made up of 35 students, including two women and an African-American. Originally located on the southwest corner of Mason and Eleventh Streets, the OMC faculty consisted of prominent local physicians.  It affiliated with the University of Nebraska in 1902 to become the University of Nebraska College of Medicine.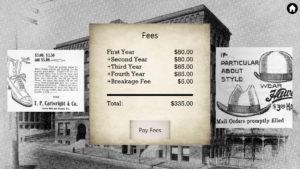 In the exhibit you can browse a timeline of the OMC, learn about some of the founding doctors and graduates, and experience what it was like as a student.  In addition, our first digital exhibit "130 Years of Leadership: Images of the Deans of the College of Medicine 1881-2010," based on the book by Dr. Robert Wigton, will continue to be on display.