The McGoogan Library is now providing access to the Embase database.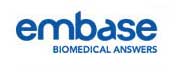 Embase is most commonly used:
To track drugs and devices in market, in order to file safety reports;
As a source for Evidence Based Medicine (EBM) and systematic reviews;
To search and filter relevant literature to support research and discovery;
With over 25 million indexed records and more than 7,500 currently indexed peer-reviewed journals, Embase is a highly versatile, multipurpose and up-to-date database covering the most important international biomedical literature from 1947 to the present day.
All MEDLINE records produced by the National Library of Medicine (NLM) are included, as well over 5 million records not covered on MEDLINE.
Embase's unique and comprehensive journal and conference coverage, together with in-depth drug indexing and daily updates including Articles in Press, supports tracking and precise retrieval of drug and disease information – giving you the confidence and tools you need to capture the most relevant and up-to-date information. (source)
Stay tuned for announcements regarding training sessions. Until then, you can view tutorials and read the help guides on the Embase site.
Embase is available to all UNMC faculty, staff, and students.