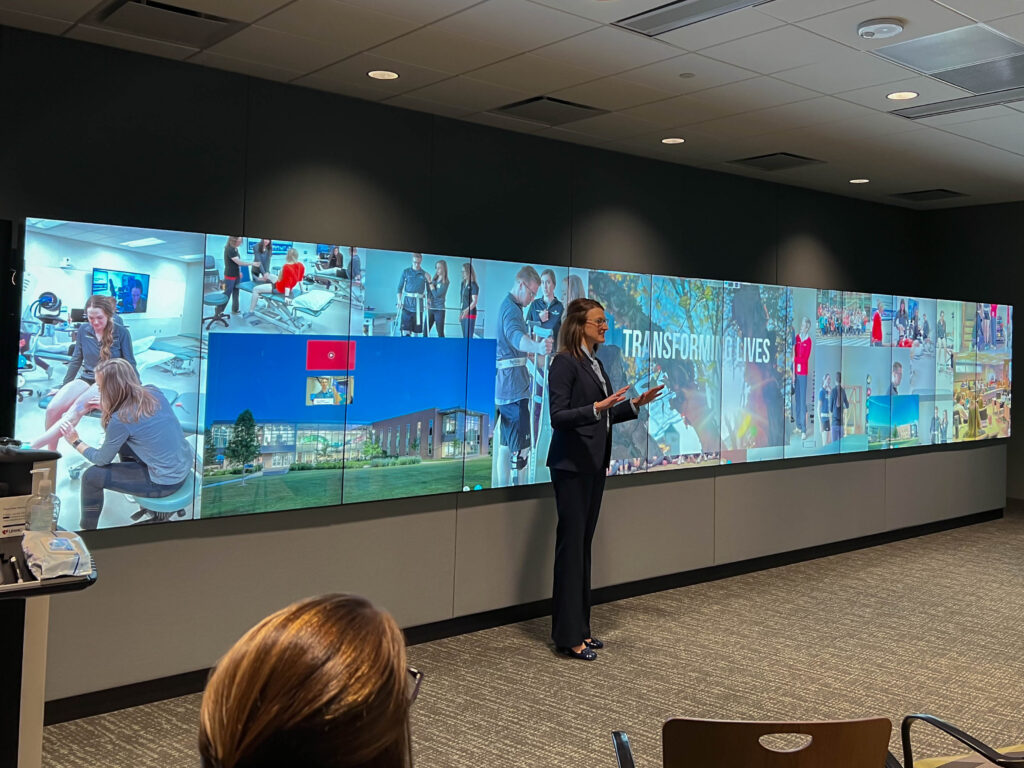 Betsy Becker, PhD, gives a presentation to prospective students at the iWall in the UNMC Dr. Edwin G. & Dorothy Balbach Davis Global Center.
by Physical Therapy Associate Director Sara Bills, DPT
The UNMC Physical Therapy Program was excited to implement a hybrid interview format this year to allow us to get to know our applicants in a meaningful (and efficient) way. First, applicants completed an interview via an online platform, where video questions were posed by faculty and staff. Timed video responses elicited candid responses from applicants, giving the admissions team an authentic view of verbal and stress management skills. Next, applicants attended a live in-person interview where structured one-on-one time allowed the admissions team to dive deeper into the experiences and attributes of each applicant.
Following the in-person interviews, applicants spent time touring the campus and learning about our program. One highlight of this year's campus visit was an interactive program overview with PT Program Director Betsy Becker, DPT, PhD, at the iWall. At this sizeable multi-touch screen device, applicants used LED pens to participate in an icebreaker activity. Dr. Becker used the expansive screen (~27′ wide x 3.7′ tall) for her multimedia presentation about the DPT curriculum, faculty, students, and outcomes.
One applicant noted on their survey: "The program overview presentation was awesome, and I loved Dr. Becker's enthusiasm and charisma."
The first educational use of the iWall is planned for next fall when learners from both campuses will be able to collaborate on patient cases easily and in real time.
We were excited to give applicants a taste of the unique educational experiences that utilize state-of-the-art technologies at UNMC. Throughout their visit, we asked the applicants to picture themselves learning from our faculty, in our spaces, and with our educational technologies. The response was overwhelmingly positive.