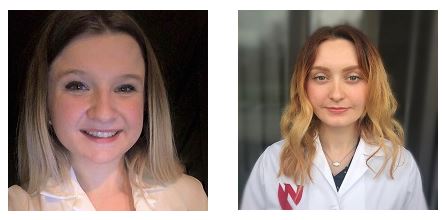 Kora Freeman and Izabel Hanson
The June American Society for Clinical Laboratory Science (ASCLS) Today newsletter published a case study by two of our 2021 medical laboratory science graduates, Kora Freeman and Izabel Hanson. They worked on the project for scholarly activity in a course.
UNMC faculty Linsey Donner and Sandra Latshaw, as well as their University of Missouri – Columbia microbiology clinical instructors, helped mentor the students through the process of developing the case study and submitting it for publication.
Kora and Izabel also displayed their case study at the UNMC College of Allied Health Professions Virtual Evidence-Based Healthcare Forum earlier this year.
Professor Latshaw said, "It is exciting to see our students' (and program's) work recognized nationally."