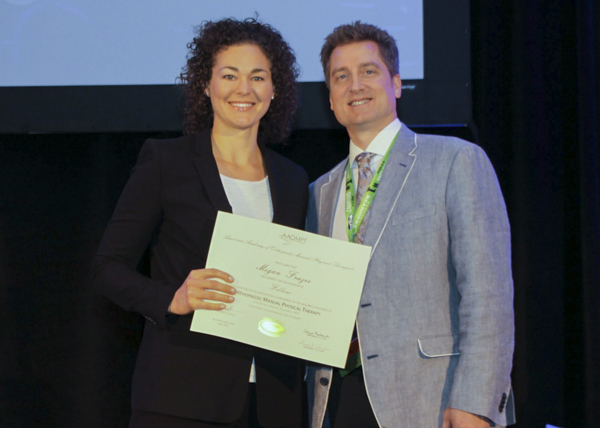 Megan Frazee with Jim Rivard, President Fellow, American Academy of Orthopaedic Manual Physical Therapists
Megan Frazee, PT, DPT, OCS, MTC, FAAOMPT, assistant professor in physical therapy education, received a certificate at a recent ceremony recognizing all physical therapists who had become a Fellow of the American Academy of Orthopedic Physical Therapists (FAAOMPT) in the past year. Megan completed her fellowship through Evidence in Motion on November 1, 2015.
Orthopaedic Manual Physical Therapy (OMPT) is a specialized area of physical therapy practice focused in the management of musculoskeletal conditions using highly specific manual techniques and therapeutic exercises. It encompasses, and is driven by, scientific and clinical evidence and the biopsychosocial model of patient-centered care.
"I commend Dr. Frazee on this outstanding accomplishment," said Joe Norman, PT, PhD, CCS, FAACVPR, PT Program Director.  "There are approximately 1300 therapists in the U.S. that qualify for the designation of FAAOMPT and only four in Nebraska.  I am delighted to have Dr. Frazee on faculty to share her expertise with our students."