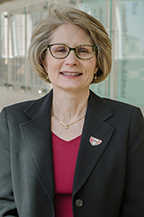 Katherine Jones, PT, PhD
Nineteen hospitals across Nebraska are implementing an evidence-based approach to keeping patients upright and reducing injuries from preventable falls.
Watch this video of Katherine Jones, PT, PhD, associate professor in physical therapy education, and Carol Kampschneider, RN, MSN, V.P. of Clinical and Regulatory Services at St. Francis Memorial Hospital in West Point, NE, being interviewed by Suzanna Hoppszallern, Senior Editor of Hospitals and Health Networks Magazine about their work on the CAPTURE Falls project. The interview was conducted at the Rural Health Leadership Conference in Phoenix on February 9, 2015.