Alexandria, VA – This month, Stephane VanderMeulen, MPAS, PA-C, stepped into her year-long role as president of the Physician Assistant Education Association (PAEA), a national organization representing physician assistant (PA) educational programs.
VanderMeulen is academic director and an assistant professor for the Master of Physician Assistant Studies program at the University of Nebraska Medical Center (UNMC), where she has been a faculty member since 2005. She received her master's degree from UNMC in 1994.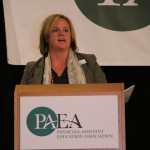 A member of PAEA's Board of Directors for five years, VanderMeulen said that she has learned a lot from watching past presidents of the Association. "I've been able to observe pieces of each president's leadership style to help shape my own." But she added that she doesn't see herself as being in charge. "For me it's not a hierarchal position. I'm truly just facilitating the work of the group."
PAEA's members elected VanderMeulen as the 2015 president in 2013; she spent 2014 in the role of president elect. Next year she'll serve as immediate past president.
In addition to her responsibilities as a faculty member, VanderMeulen is also a doctoral candidate in gerontology at UNMC and a mother of two. Her PAEA presidency will bring an additional workload, but VanderMeulen is excited for what lies ahead in the coming year. "The PA profession is poised to really set itself apart in ways that it hasn't been able to before,"she said. "I think we're heading to great places; it's just a matter of holding on for the ride."
Physician assistants (PAs) are licensed health care professionals who practice medicine as members of a team with their supervising physicians. Established in 1972, PAEA is the only national organization in the United States representing PA educational programs. Its mission is to pursue excellence, foster faculty development, advance the body of knowledge that defines quality education and patient-centered care, and promote diversity in all aspects of PA education.