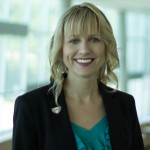 Kerissa Hanson, BA, is the new program coordinator for physical therapy education. Here's a little bit about Kerissa, in her own words:
"After earning a Bachelor of Arts in Communication from Evangel University in Springfield, Missouri, in December, 2003, I moved to Washington, D.C., where I worked for several years. Upon returning to Omaha in 2006, I began working at UNMC as a Residency Coordinator. I'm happy to join the School of Allied Health Professions!
This summer, I'm enjoying a variety of activities including wandering through the Farmers Market, biking, and spending time with my family and friends. I'm currently reading George Washington's Secret Six: The Spy Ring that Saved the American Revolution, by Brian Kilmeade and Don Yeager. Oh, and I love coffee."
Welcome, Kerissa!