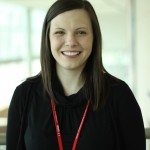 Susanne Bishop, MS, MLS(ASCP)CMSBBCM, is a new assistant professor in our Clinical Laboratory Science (CLS) Education program. Susanne earned her bachelor's degree in Education in 2005 from UNO and her bachelor's degree in Clinical Laboratory Science at UNMC in 2007. She went on to earn a Master's degree in Clinical Laboratory Science from the University of North Dakota in 2014.
Here's a little more about Susanne in her own words:
"Prior to joining the CLS program faculty, I worked at Bryan Medical Center in Lincoln, NE for one year as the Laboratory Section Coordinator of Transfusion Medicine. Before that, I worked at the American Red Cross in Omaha, NE for six years in the Immunohematology Reference Laboratory.
In my free time, I enjoy spending time with my family, friends, and my dogs. I also enjoy gardening and hiking."
Glad to have you on our SAHP team, Susanne!