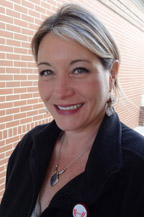 After working for us through Kelly Services on and off for seven months (four in Perfusion and three in Academic & Student Affairs), Christine Swets, AA, is now a full-time Administrative Associate II.
Born and raised in Ontario, Canada, Christine became a US citizen in January 2011.  
"I had studied and knew the answers for all 100 possible questions during the interview with Immigration & Naturalization, and I was nervous," she said, "but it was pretty easy."
Christine came to the United States for college, but married after graduating and became a permanent resident. She studied music at the Royal Conservatory of Music in Canada for eleven years starting at age six, with a focus on piano, music theory, music history, and composition. She owned three different piano studios over the years, in Canada, Indiana, and Washington, but discontinued teaching to raise her four children. Christine loves art and music, but her other passion lies in organization and administrative support. Lucky for us!
 Welcome, Christine!