By John Schleicher
The U. S. entered World War I on April 6, 1917, and fought throughout the remainder of the conflict, until the armistice was signed on November 11, 1918.
Eighty members of the College of Medicine faculty and student body were in military service by March 1918.  Dr. Arthur Stokes served as Director of the University of Nebraska Base Hospital No. 49, as well as Chief of Surgical Service.  Dr. Edson Bridges served as Chief of Medical Service, and other faculty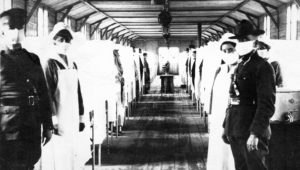 physicians served in the unit.
Base Hospital No. 49 was organized in September 1917, mobilized in March 1918, and transferred to Fort Des Moines, Iowa for training.  The unit sailed for England in July 1918, and landed in Cherbourg, France in August 1918, later moving on to Allerey, France.  The normal bed capacity of the hospital was 1000, with an emergency expansion of 1000.  The largest number of patients in the hospital under treatment was on November 10, 1918 (one day before the armistice ending the war was signed), when 1,950 patients were being treated.
The hospital unit ceased to function in January 1919, and the members of the unit sailed for New York in April 1919.  The unit was then transferred by train in May 1919 to Camp Dodge, Iowa, where it was demobilized on May 7, 1919.