John Schleicher
Special Collections Librarian
Special Collections
Tell us about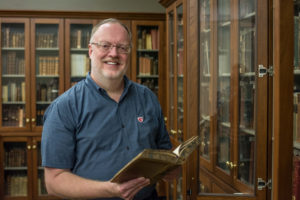 your job in the library.
I work in Special Collections, which is part of Collections Services.  I organize and take care of the library's historical collections, including archives, rare books, artifacts and art work.  I make these collections available to researchers and also provide reference services.
When would you most likely meet or talk with me?
If you are interested in researching topics related to the history of the health sciences, accessing a book from the rare book rooms, or if you need information on the history of UNMC or any of the various colleges, you would most likely meet or talk with me.
What do you like about working in the library?
I enjoy making the campus community and outside researchers more aware of the wonderful historical collections which we have—especially the rare books.  I also enjoy giving presentations on the history of the medical center.
What do you like to do outside of work?
I like to read history and biography.  I really enjoy watching vintage movies on Turner Classic Movies.  I am part of a local wine-tasting group and enjoy experiencing new varieties I have never tried.  I help one of my siblings provide care for an elderly parent.