By Christian Minter
The National Library of Medicine has redesigned its HIV/AIDS information website. AIDSource (https://aids.nlm.nih.gov/) provides a comp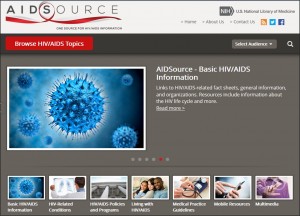 rehensive collection of HIV/AIDS-related resources from federal agencies and other trustworthy organizations. The resources are selected and reviewed by librarians and expert information specialists. This site is useful for health professionals, researchers, and the general public, and materials are available in both English and Spanish.
Users can browse for information by topic of interest or by target audience (such as students or health professionals). Content includes information on:
HIV/AIDS and related conditions
Prevention and treatment
Medical practice guidelines
Statistics and research
Policies and programs
Training opportunities
Mobile apps
And more!