Cameron Boettcher
Archives Associate I
Special Collections
Tell us about your job in the library.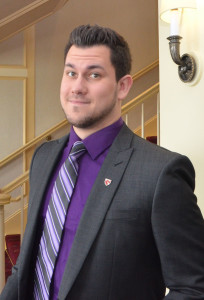 I work in the Special Collections department of the library, digitizing various bits of UNMC history, such as yearbooks and class photographs, as well as work with various collections, most notably, the work of Wolf Wolfensberger, Ph.D. Currently, I am digitizing portions our UNMC photo archives and also creating new exhibits to display in Wittson Hall.
When would you most likely meet or talk with me?
You are most likely to encounter me if you find yourself on the eighth floor of Wittson Hall visiting special collections or if you have any interest in the history of the medical center or Dr. Wolfensberger.
What do you like about working in the library?
What I love most about my job at the library are the people I get to meet, work with, and work around. Everyone has such a great attitude and works extremely hard. Being that I am only 24; I have so many great role models to look up to that help me grow as a person and a professional. I also love the fact that I am one of the fortunate history majors who has a job that is in the field of the degree. I have had many great opportunities that have allowed me to travel to learn about best practices for digitization, preservation, and general "archivism." I have also had the good fortune to be able to present at the 6th International Social Role Valorization Conference in Rhode Island last June. That was quite the experience. Without the library, I would not have had any of these opportunities.
What do you like to do outside of work?
Outside of work I have many hobbies. I enjoy my playing bass guitar, indoor soccer, computer games, spending time with my friends and family, drinking good craft beer, and watching some Husker football! I am currently in grad school at the University of Nebraska at Omaha so my free time is a little limited, but I manage to make time for the things and people I care about.