Springer Protocols has launched a mobile interface that is optimized for use on smartphones and tablets. To access the full-text on your mobile device, you must first create a personal username and password at the Springer Protocols site. Then, once you have registered, you can access the mobile site (http://m.springerprotocols.com), log-in, then search and view the full-text. A link to Springer Protocols is also included in the Mobile Resources section of the library's mobile website.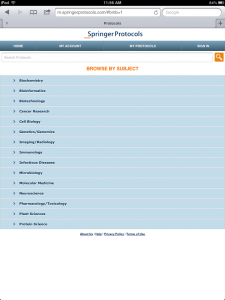 Springer Protocols contains the following titles:
Methods in Molecular Medicine
Methods in Pharmacology and Toxicology
Methods in Biotechnology
Methods in Molecular Biology
Neuromethod
Laboratory Handbooks, such as the Biomethods Handbook, the Proteomics Handbook, and the Springer Laboratory Manuals
"SpringerProtocols is the largest subscription-based electronic database of reproducible laboratory protocols in the Life and Biomedical Sciences…. SpringerProtocols offers researchers access to nearly thirty years worth of time tested, easily reproducible, step-by-step protocols for immediate use in their lab." — From SpringerProtocols
These resources are available to all UNMC faculty, staff, and students.