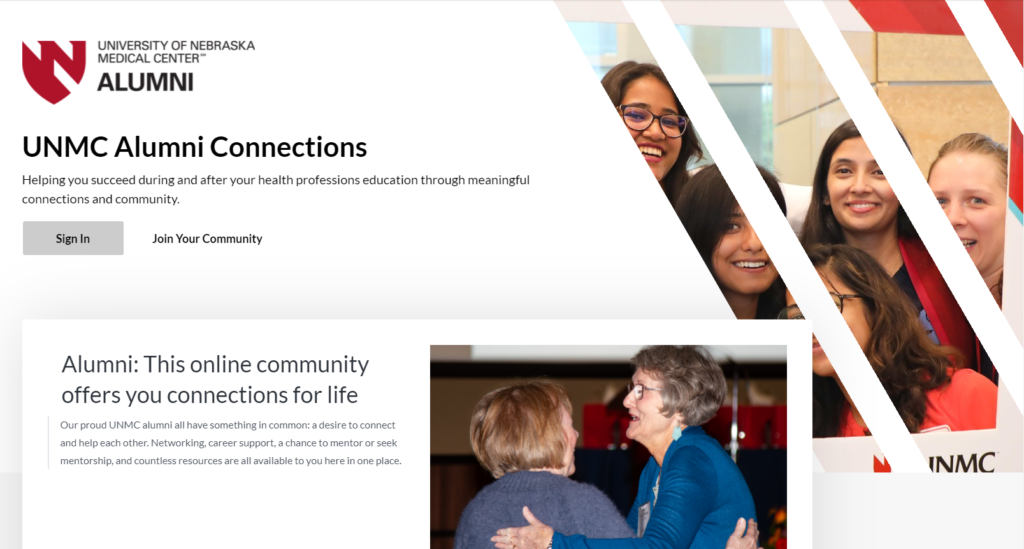 Since launching a year ago, the UNMC Alumni Association's online community, Alumni Connections, has grown to nearly 800 users.
UNMC College of Allied Health Professions (CAHP) students are invited to join the site and connect with alumni through personal and professional networking. When you join, you can search for and connect with other users, engage in conversations on the discussion board, become a member of the CAHP group and participate in programming.
Unlike other professional-networking sites, Alumni Connections offers unique perks that include: a matching quiz designed to suggest connections with complementary characteristics, a filtering tool to narrow user searches by specific criteria, a high message response rate and an automatic shared connection with every user on the site – UNMC.
This month, the Alumni Relations Office has new programming planned on the platform.
On March 17, Howard Liu, MD, chair and professor in the UNMC Department of Psychiatry, hosted a live "ask me anything" chat on the discussion board. The Q&A is available to read here.
In celebration of Women's History Month, women in the UNMC community are invited to join the new Women in Healthcare group on the platform to find community through discussions, questions, encouragement, advice and more.
To join Alumni Connections, visit the site.
For questions or assistance logging into the platform, you can email Laura Olson in the Alumni Relations Office.