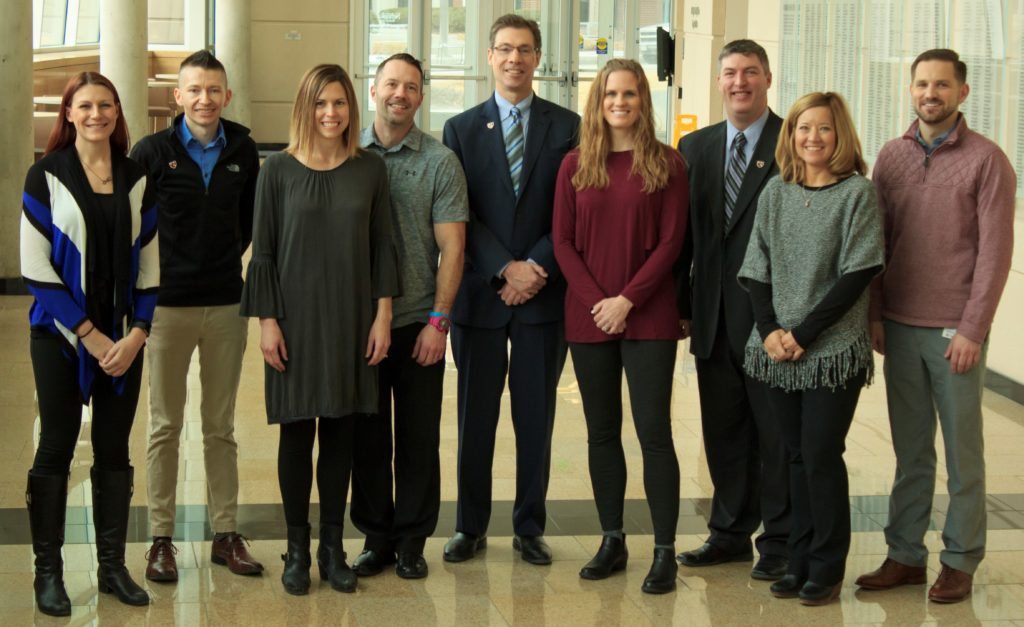 Team from L-R: Annie Wildermuth, Kevin Howard, Melissa Dorr, Jeremy Boldt, Kyle Meyer, PhD, Loralee Amandus, Shaun Horak, Tanya Custer, Jon Kilstrom; Not pictured: Laura Bilek, PhD, Greg Karst, PhD, Kim Michael, Anne Skinner, Carey Wheelhouse, and Ryan Mullane
What has 40 floors (870 steps) and shoots 633 feet into the Omaha sky?
It's the First National Bank building, and the home of the annual Trek Up the Tower event, which supports WELLCOM, a nonprofit organization dedicated to worksite wellness.
Saturday, February 17, 2018, marked another triumph for our CAHP 14-person tower trekking team.
"I'm so pleased we had so many members of the College participate," said dean Kyle Meyer, PhD. "Our team did an outstanding job repeating as the small business corporate team division champions."
The team did grow, this year, and repeaters improved their previous times, but our top four clenched the win with awesome times: Kevin Howard (5:43, 10th overall), Jeremy Boldt (6:17, 38th overall), Carey Wheelhouse (8:00, 36th in women), and Anne Wildermuth (8:12, 46th in women). All race results>>
Team captain Melissa Dorr said, "I am really proud of our team. We trained hard and performed well on the day of the competition. I hope even more people will join us next year. It is truly a great team building activity as well as an excellent way to get in shape. I'm excited to be back-to-back champions and look forward to a three-peat next year!"
Team members: Melissa Dorr, Loralee Amandus, Laura Bilek, Jeremy Boldt, Tanya Custer, Shaun Horak, Kevin Howard, Greg Karst, Jonathan Kilstrom, Greg Mehrer, Kyle Meyer, Anne Skinner, Carey Wheelhouse, Anne Wildermuth, Ryan Mullane, who is a preceptor and lecturer for the PA Program. (Kim Michael trained but was out of town during the event.)