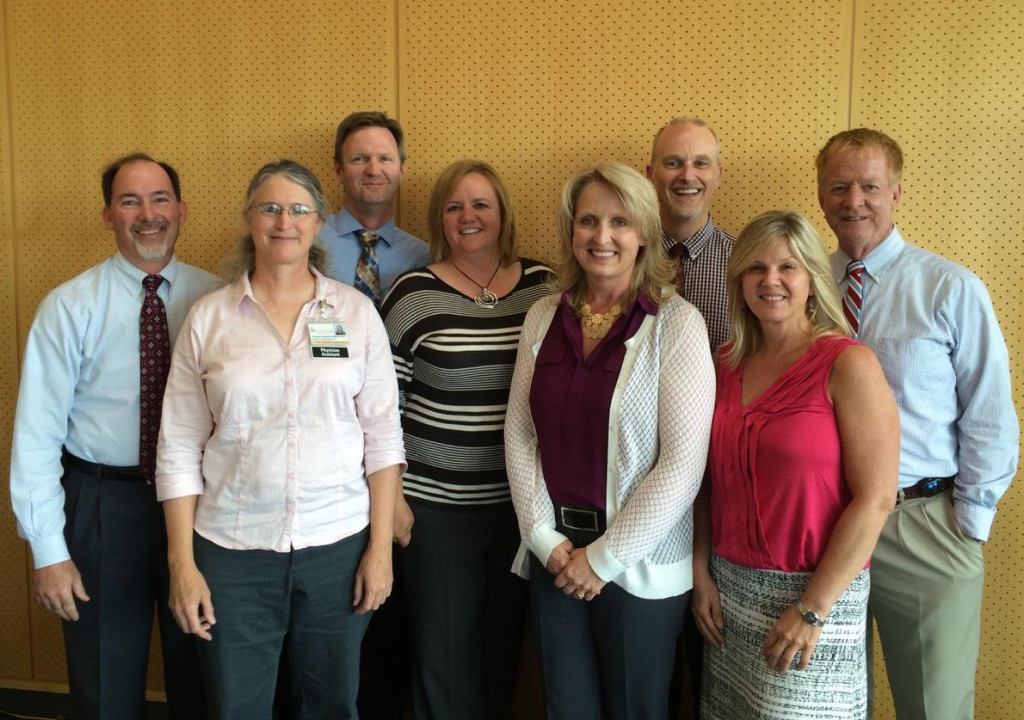 (L-R) Darwin Brown, MPH, PA-C, UNMC PA Associate Director; Theresa Hegmann, MPAS, PA-C, UI PA Director for Clinical Education; David Asprey, PhD, PA-C, UI Assistant Dean, Office of Student Affairs and Curriculum; Stephane VanderMeulen, MPAS, PA-C and Patty Scholting, MPAS, PA-C, both UNMC PA Academic Directors; Anthony Brenneman, MPAS, PA-C, UI PA Program Director; Carol Gorney, MPAS, PA-C, UI IA Director of Clinical Education; and Michael Huckabee, PhD, PA-C, UNMC PA Director
Faculty from the UNMC Division of PA Education traveled to Iowa City recently to meet with faculty and administration at The University of Iowa to explore their recent integration of their medical school and PA program curricula. As the UNMC College of Medicine is planning a transformation of the existing curriculum, the UNMC PA faculty have engaged the curriculum transformation process to consider similar changes.
The curricular model at the University of Iowa has both medical and PA students learning alongside each other in the same coursework for most of their didactic studies. Assessments from their first two years show excellent outcomes for both student groups.
Gary Beck, PhD, UNMC College of Medicine Director of Medical Education (not pictured above), joined the UNMC delegation for the all-day visit.