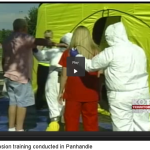 Healthcare professionals put aside their scrubs and wore radiation protective gear for a mock nuclear explosion drill in Scottsbluff on Wednesday. One of our graduates along with one of our current students, both from the nuclear medicine program, participated.
Lauren Hess, a 2011 graduate and now a staff technologist at Regional West Medical Center (RWMC) in Scottsbluff, and Jillian Rutan, a current student, donned white protective suits and grabbed their Geiger counters to help with the drill.
Jillian has been on our campus for the past four weeks for a nuclear pharmacy rotation. The drill was day two for her in the clinical nuclear medicine department at RWMC, where she will spend the remainder of the program.
Our nuclear medicine program added the RWMC site just this fall, and we're excited to have a program to offer in western Nebraska.
g qU MWcnFJIHM K wUbfGx J