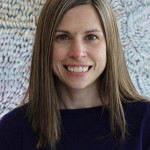 Melissa Dorr, BA, is our newest staff member in the School. She has assumed the role from which Sue Eulberg retired in Physician Assistant Education, working on affiliation agreements and finance. She graduated from the University of Nebraska-Lincoln with a Bachelor of Arts degree in Psychology, and spent 7 1/2 years working in the field of medical staffing, the last 4 1/2 years in an administrative role at Children's Hospital & Medical Center.
"My husband, Tony, and I have a 13-year-old daughter, Natalie, and 14-month-old son, Anthony," Melissa said. "I love music, movies, and sports, especially running — anything from a weekend 5K to training for an upcoming half marathon. I'm looking forward to meeting and working with all of you!"
Likewise, Melissa! Welcome aboard.