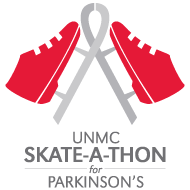 You don't have to skate to play a part. You can volunteer, donate, or do it all! The annual Parkinson's Skate-a-thon is set for Jan. 10-11 and will close out the UNMC rink season. Click that link to sign up, and your 10 bucks goes to Parkinson's research and programs (and covers skate rental and ice access).
Skating starts at 12 p.m. on Jan. 10 and concludes at 12 p.m. on Jan. 11. Skate as long as you want! The event is open to the public — skaters and non-skaters alike. Skaters will be on the ice continually, but non-skaters are encouraged to come and enjoy the festivities and show their support. The rink is located on the east side of 42nd Street, between the College of Nursing Building and the Sorrell Center.
Proceeds go toward:
Clinical and basic science Parkinson's research at UNMC; and
The PHD Program (Parkinson's Health Development), a non-profit, local program that offers affordable exercises and activities to improve the quality of life for persons with Parkinson's.
From 2011 to 2013, the skate-a-thons at UNMC netted more than $110,000 for Parkinson's research and programming. Come out, play a part, and have some FUN!