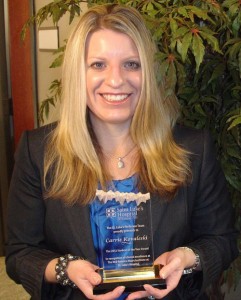 From the Saint Luke's Hospital newsletter — May 16, 2012:
At the end of the academic year, the Perfusion Department at Saint Luke's Hospital selects their Student Perfusionist of the Year, who they believe represents the perfusion profession in the most positive light. This year, Carrie Kovaleski [UNMC class of 2012] won the award along with a $500 educational scholarship. Her high standards of care, willingness to learn, and exceptional attitude made Kovaleski a unanimous selection of the perfusion department for 2011-2012. Saint Luke's Hospital has been a clinical affiliate for the University of Nebraska Medical Center Perfusion program for the last 14 years. Students are sent to Saint Luke's for an eight-week rotation to learn how to operate the heart-lung bypass machine in open heart surgery.
Congratulations, Carrie!