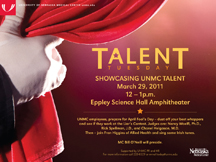 Come tell your best tall tale, sing along to Irish music, or just listen! It's Talent Tuesday today, featuring our inaugural Liar's Contest, as well as Irish music by Fran Higgins (that's me). I've even got a fabulous PowerPoint with the lyrics to the choruses and little hands to show you where to clap. You can't go wrong!
Today, Tuesday, March 29, 2011
Noon – 1:00 pm
Eppley Science Hall Amphitheater
Here's a link to the Today article, in case you missed it or want more info.