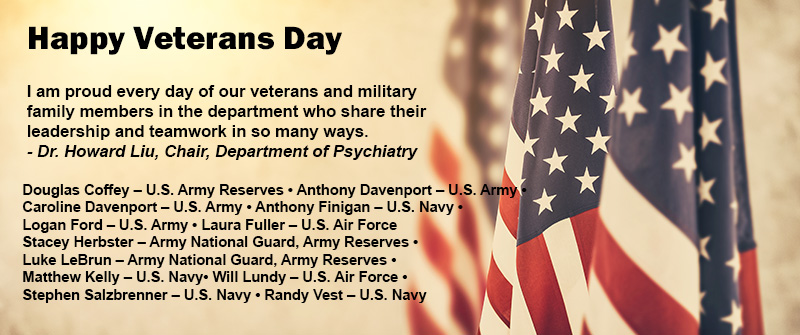 On Veterans Day and throughout the year, the Department of Psychiatry is proud to highlight many current and former U.S. military members making a difference at UNMC and Nebraska Medicine.
Maggie Milner, BSN, MSW, Department of Psychiatry Clinic Manager, said working with several veterans in the clinic is an honor and privilege.
"The discipline, strong work ethic, and integrity displayed each day is a testament to the type of individuals we are blessed to have serving our country," Milner said.
Medical Receptionist Caroline Davenport and her husband, Anthony, served together in the U.S. Army. Caroline said her time in the U.S. Army allowed her to have a deeper care and understanding of mental health as a whole.
"I don't feel as if there has to be a stigma to receiving care for taking care of your brain like you would your body," she said. "For the time that I did serve, I'm grateful for the opportunity of vast backgrounds of people there are."
Department of Psychiatry nurse Randy Vest, RN, comes from a long line of family members who served in the Armed Forces, including his father, Floyd, U.S. Navy; his brother Greg Vest, U.S. Army; his nephew Tim Vest, Nebraska Air Guard; and nephew-in-law Brian Sheehan, US Army.
"Being in the Navy, I met young men from all over the country, with different races, education, financial, cultural, and religious beliefs. I gained an understanding of people and their similarities and differences. I believe this helped me understand and care for my patients more," Randy Vest said.
Matt Kelly, MD, is the Chief Resident of the Department of Psychiatry's Residency program. Dr. Kelly and Dr. Logan Ford are residents who served in the Armed Forces.
"During my time in the U.S. Navy, I served with many wonderful physicians and leaders who were role models, and each influenced me to become the psychiatrist I am today," Dr. Kelly said.
Department of Psychiatry Chair Howard Liu, MD, MBA, said he's proud that his path to psychiatry led through the VA.
"As a med student, I was working with veterans in recovery from mental health and addiction disorders. The experience of listening to so many courageous stories impacted by trauma, sacrifice, camaraderie, and loss left a lasting impression that helped me choose psychiatry as a field," Dr. Liu said.
David Cates, PhD, Vice-Chair, Clinical Services for the Department of Psychiatry, said the department is fortunate to have veterans as members of our behavioral health team.
"Their skills and experiences make them invaluable members of the department in providing culturally competent care to veterans and their families as well as bringing a high level of leadership, teamwork, and accountability to their work," Dr. Cates said. "We're grateful to them for their service to our county and our local community."
Daniel Gih, MD, Director of Education for the Department of Psychiatry, said Veterans Day is a reminder of those who have served and an opportunity to express our gratitude.
"As a brother of a veteran and an educational leader, I hope that our continued efforts to care for our veteran and active-duty populations are continuous ways to honor those who serve our country," Dr. Gih said. "Their work is not easy, and we will work towards improving their health."
Dr. Liu said when the Department of Psychiatry had a chance to start a residency program, he knew that he wanted trainees to serve the veteran community.
"Looking ahead, we are working with Nebraska Medicine to become a partner for a Dept. of Defense program called Skillbridge, which trains active-duty military to learn civilian skills as they separate or retire from the military," Dr. Liu said. "It's my hope that this will encourage more veterans to work in our psychiatry department. Happy Veteran's Day to all who serve and all the military families who have sacrificed so much!"
Douglas Coffey – U.S. Army Reserves
Anthony Davenport – U.S. Army
Caroline Davenport – U.S. Army
Anthony Finigan – U.S. Navy
Logan Ford – U.S. Army
Laura Fuller – U.S. Air Force
Stacey Herbster – Army National Guard, Army Reserves
Luke LeBrun – Army National Guard, Army Reserves
Matthew Kelly – U.S. Navy
Will Lundy – U.S. Air Force
Stephen Salzbrenner – U.S. Navy
Randy Vest – U.S. Navy