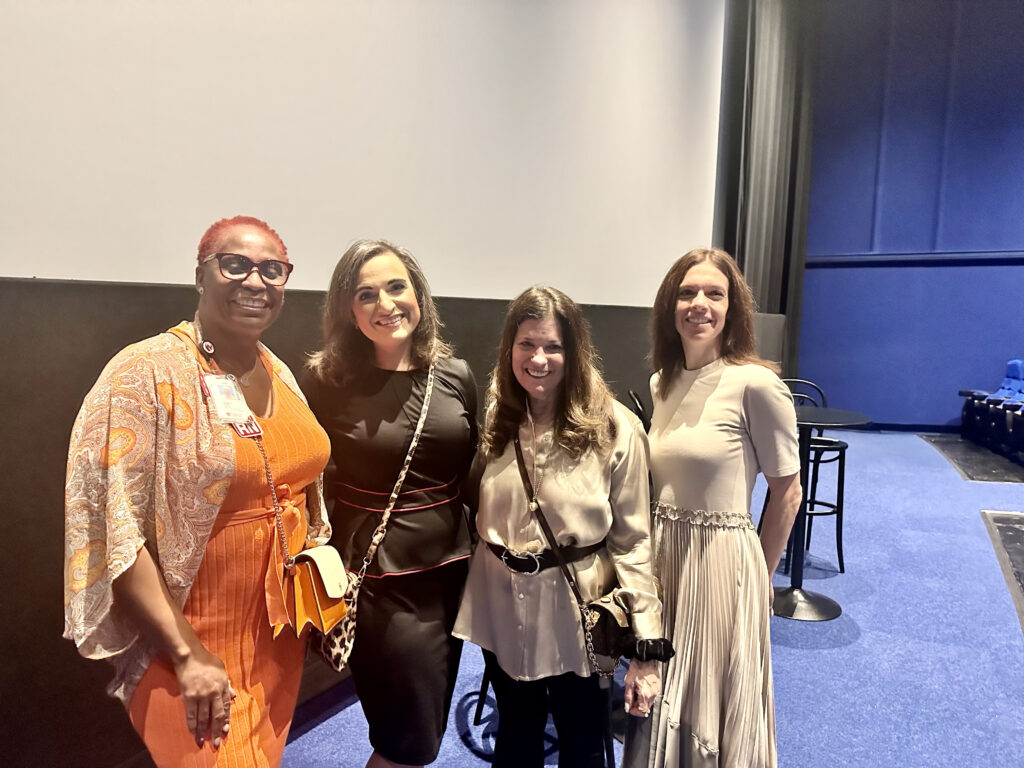 Several members of the Department of Psychiatry participated in a panel discussion on the documentary, "Attention Must Be Paid: Women Lost in the Opioid Crisis."
The film by Emmy-award winning producer Debra Gonsher Vinik, PhD, was played on Oct. 23 at the Dundee Theater in Omaha. The film is a call-to-action plea for more women-specific addiction treatment and recovery services.
Along with Dr. Vinik, Marley Doyle, MD; Kristin Daniel, PharmD; and Patty Falcone, MPH, were on the panel. Dr. Doyle is an UNMC adult psychiatrist and the Director of BHECN (Behavioral Health Education Center of Nebraska). Dr. Daniel is an Opioid Stewardship Pharmacist for Nebraska Medicine. Falcone is Health Promotion Supervisor for the Douglas County Health Department. Alëna Balasanova, MD, Director of Addiction Psychiatry Education for the Department of Psychiatry, moderated the discussion.
"It was an emotionally charged and powerful evening bringing to light some of the most vulnerable victims in the opioid crisis our country faces," Dr. Balasanova said.
During the panel discussion, Dr. Vinik described the inspiration for developing and making this film and spoke about the meaningful relationships developed with the individuals portrayed. A good portion of the film dealt with opioid use disorder in the peripartum period, and Dr. Doyle leveraged her fellowship training in reproductive psychiatry in answering audience questions about how treatment of pregnant women plays out when it comes to substance use disorder and the significant stigma and limited access to substance use care these patients face.
Dr. Daniel talked about steps Nebraska Medicine has taken to increase access to the life-saving opioid reversal agent naloxone, including a best practice advisory alert that has resulted in a 450 percent increase in naloxone dispensing state-wide.
Falcone talked about Douglas County Health Department recently receiving a portion of the CDC OD2A (Overdose Data to Action) grant which they will use the grant to develop clinician and health systems best practices to improve clinical management of pain and SUD and build healthcare infrastructure to improve care coordination, with a focus on providing guideline-concordant care to reduce overdose.
Nebraska Medicine, UNMC Office of Inclusion and the Department of Psychiatry and Healthy Blue collaborated to bring Dr. Vinik and her documentary to Omaha.