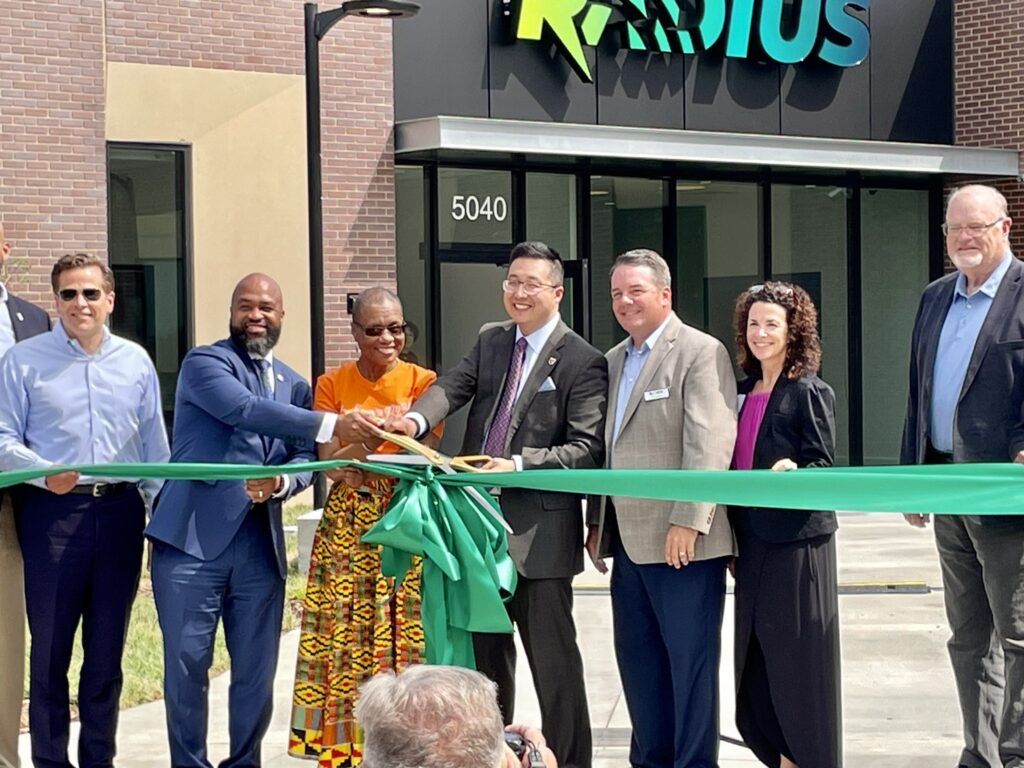 On June 7, 2023, Nebraska community leaders, including UNMC Department of Psychiatry Chair, Howard Liu, MD, MBA, cut the ribbon on RADIUS – a new North Omaha-based, non-profit health center – which will provide trauma-informed residential care, education, in-home services, and behavioral health treatment – in the community where youth and families can stay connected and heal together.
"The beauty of RADIUS is that it is truly a community effort," Dr. Liu said. "From the support of youth judges and probation to mental health and education services to inclusive building design to trauma-informed staff, this is a vision for a new approach for youth in recovery."
RADIUS was created in 2020 to join existing efforts in Douglas County to strengthen the continuum of services and alternatives for youth in the juvenile justice system. These collective efforts are designed to keep Omaha youth in their community receiving treatment and education while preventing them from experiencing disruptions in family relationships, education, and local support networks essential to their future success. Nick Juliano, RADIUS president and CEO, said Dr. Liu, who serves as Chair on the RADIUS Board of Directors since July 2020, played a pivotal role in the organization's development.
"Howard's advocacy for access to mental health services is second to none," Juliano said. "His consistent voice helps to remove the stigma associated with seeking help. Howard was willing to join RADIUS as a founding board member and assumed the board chair role, which he continues to lead today. His strategic leadership has positively shaped the mission and vision of our organization. And the board has flourished under his leadership and is positioned well for the future. Howard's insights and support have been instrumental in developing my ability to lead RADIUS."
RADIUS will begin its services in July 2023. Community members toured the five-acre campus on June 7, 2023. The new building has 24 individual bedrooms, three school classrooms, a gymnasium, and a sprawling outdoor recreational area. The average length of stay is anticipated to be six months to a year. Youths will be enrolled in fully accredited schools right on the new campus. Ken Zoucha, MD, UNMC Addictions Division Director, said getting the students back on track academically is very important.
"The teachers at the school have a strong background in special education, and they will be able to provide them an opportunity to catch up. Most youths are a year behind in school, and today, it's imperative to graduate from high school and graduate on time," said Dr. Zoucha, who served as a consultant on the RADIUS project.
RADIUS is adjoining a new Charles Drew Health Center clinic, which will serve RADIUS clients and the community at large and continue to provide behavioral health services to Omaha residents. "Our goal is to ensure that young people have an opportunity to create a healthcare home for continuity of care," said Kenny McMorris, MPA, RADIUS board member and the President and CEO of Charles Drew Health Center. Department of Psychiatry faculty members Sheritta Strong, MD, Madeline West, MD; Melissa O'Dell, MD; Sara Zachman, MD, MPH, and Varun Sharma, MD, have provided clinical services through Charles Drew Health Center to help diverse patients and families in North Omaha.
i ghFeel Otbrm