Two years after its grand opening, the Psychiatric Emergency Services (PES) unit continues to provide behavioral health care to those who arrive at the emergency room in a mental health and/or substance use crisis.

The PES opened on October 5, 2020, on the ground floor of Clarkson Tower. The entire unit was built, and the staff was hired in the middle of the COVID-19 pandemic. PES manager Jennifer Sparrock, LCSW, LIMHP, said COVID-19 led to some delays in opening the unit, but once the doors were opened, the unit's staff started filling a need. Within the first few months, the PES saw nearly 400 patients. The unit features a calm, compassionate environment away from the main emergency department.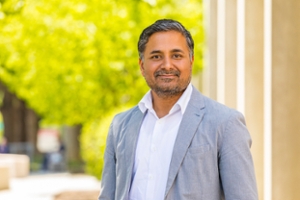 Individuals present to the Nebraska Medicine Emergency Department for medical clearance and are then referred to the PES. A psychiatrist, APP, therapists, and psychiatric nurses staff the unit. Additionally, peer support professionals use their lived experience with mental health challenges to engage, support, and empathize with patients. The unit's goal is to stabilize patients and swiftly refer them to community partners for appropriate treatment while avoiding unnecessary inpatient admissions.
Sparrock said during the past two years the PES has built a close partnership with Douglas County Mental Health Center, Methodist-Fremont, CHI, and community organizations such as Salvation Army, Community Alliance, and countless others. As a result, PES staff members and healthcare providers at local ERs have started working together to get proper help for those in need.
As year three begins, Sparrock said PES leadership is continuing to look for ways to help the community further.
"We feel like we are part of our community," she said. "It's exciting to see how we can be a part of helping our community better meet the needs of some of our most vulnerable members."
The PES leadership team consist of Ashish Sharma, MD, is the medical director of the PES, Jeanna Benton, MD, Associate Medical Director, and Claudia Moore, MD, Associate Medical Director.
Xt I h