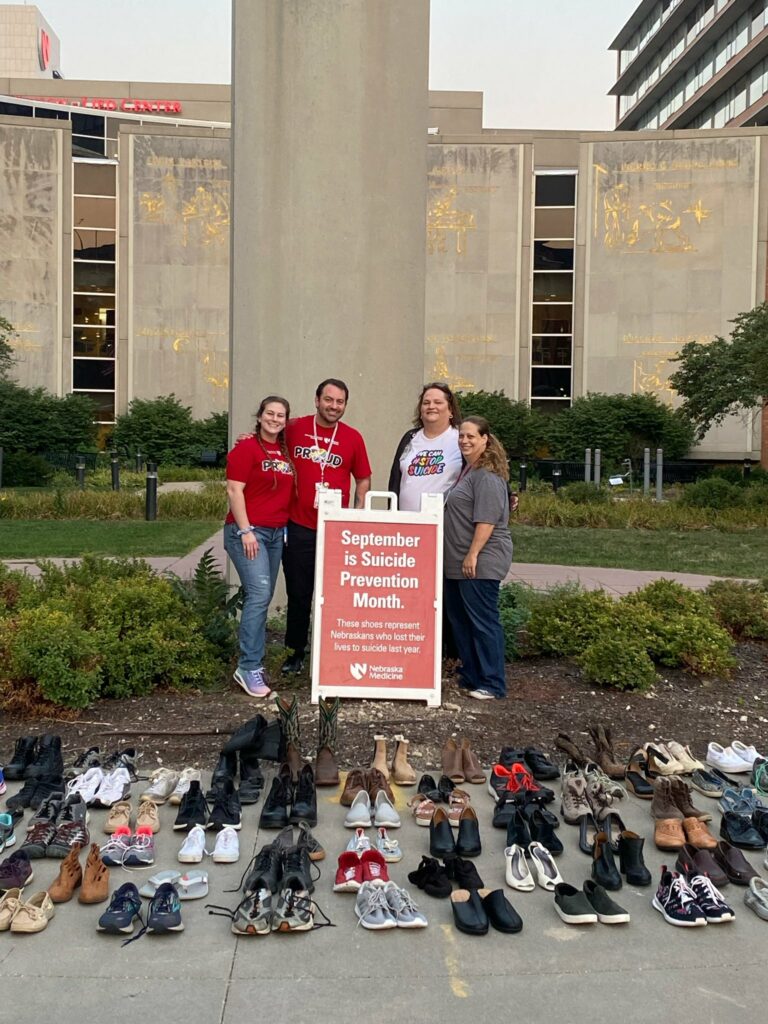 During September's Suicide Prevention Month, the Department of Psychiatry faculty, students, and staff have worked hard to bring awareness to suicide prevention.
Ahead of the month, the department's Community Service/Wellness Committee members requested shoes for a display outside Clarkson Tower. The drive collected 283 pairs of shoes. Each pair represented a Nebraskan who died by suicide in 2020.
On September 17, numerous department faculty, students, and staff participated in the Out of the Darkness Community Walk. The Nebraska Chapter of the American Foundation for Suicide Prevention organizes the event. According to the AFSP website, the walk is a journey of remembrance, hope, and support. It unites our communities and provides an opportunity to acknowledge how suicide and mental health conditions have affected our lives and the lives of those we love and care about.
Celeste Akers, Co-Chair of the Community Service/Wellness Committee, said it's important to bring awareness to suicide.
"If something is not talked about then it becomes secretive or shameful sometimes, especially with mental health issues," she said. "The more open we are, the more aware of it, the more people feel like they can speak up and seek support, whether it's the person who needs that support or a family member or friend who needs it.
Akers also said more awareness tends to lead to more resources.
"The more public is aware of the mounting problem, especially among younger people, the more likely they are to support programs that prevent that or help that or fund programs that prevent that or help that issue," Akers said.
Recent suicide prevention funding has led to the new "988" Suicide and Crisis Lifeline. It replaces the longer 10-digit number. The number went into effect on July 16, 2022.
Jennifer Sparrock, LCSW, LIMHP, manages the Nebraska Medicine Psychiatry Emergency Services unit and also sits on the AFSP board. She said people need to look at suicide prevention as a public health issue.
"We need to look at suicide prevention as a public health issue the same way we do cardiovascular disease, obesity and Type 2 Diabetes," she said. "There are many systems who play important roles in suicide prevention, and everyone needs to be involved."
Sparrock added that it's common for people considering suicide to feel disconnected and they feel hopeless.
"It might be a tough, hard conversation, but it's important to let a person who might be thinking about suicide know that they are seen, and that they matter. A person can become laser-focused in a time of crisis, seeing no way out. We must let them know that there is a tomorrow after this moment and people are there to help," she said.