On July 1, Abe Farhat, MD, became the third Addiction Medicine Fellow at UNMC.
Dr. Farhat graduated from the UNMC College of Medicine in 2019 and completed residency at Clarkson Family Medicine in Omaha in 2022. Following his residency, he originally planned on working as a hospitalist somewhere in the Southeastern US, but among other things, the spread of the Delta variant in the area led him to reconsider opportunities in Omaha. He heard about the Addiction Medicine Fellowship and remembered the patients he treated in residency who struggled with substance use disorder.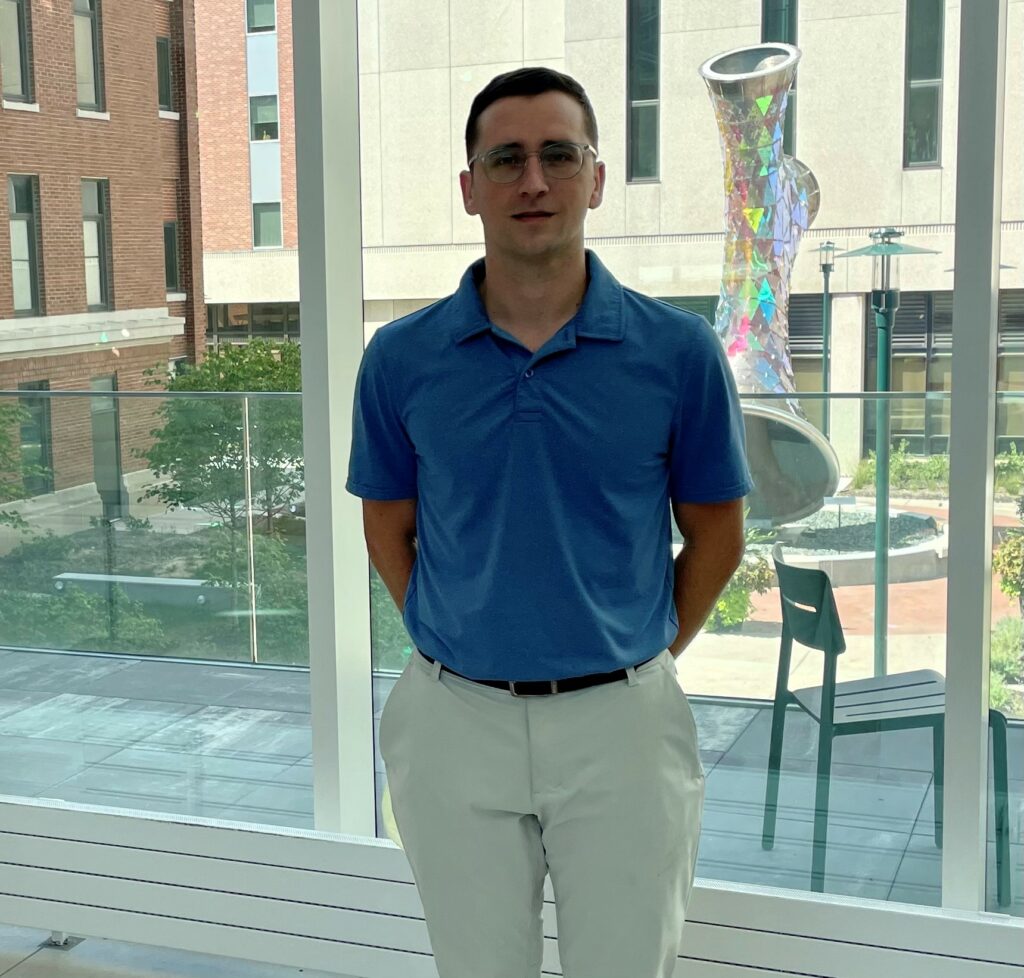 "When I applied, I figured that if fellowship accomplished nothing more than making me a better primary care physician, then it would be the right move," Dr. Farhat said. "Addiction medicine is a relatively young, rapidly developing field with the potential for significant societal impact, and I wanted to be at the forefront."
Between undergraduate and medical school, Dr. Farhat did a two-year assignment in Madagascar with the Peace Corps. While he had previously considered a career in medicine, when he left the U.S., his plan was to eventually apply to graduate school and pursue a career as a chemistry professor. During his time in rural Madagascar, he pivoted back to medicine after witnessing the meaningful and lasting impact of a doctor passing through his village. He began preparations while still abroad and, upon returning to the U.S., applied to the College of Medicine at UNMC.
"Every day, the village residents would ask me when the doctor was coming back, and I would have to tell them I wasn't sure he would come back. It was a poor, rural village where many would be born, live and die without seeing a doctor. It showed me the value of possessing, applying, and sharing that medical knowledge."
During his one-year fellowship, Dr. Farhat will put that medical knowledge to good use in the growing addiction department under the leadership of Ken Zoucha, MD, Director of Addiction Medicine Division; Claudia Moore, MD, and Alёna A. Balasanova, MD, FAPA, Director of Addiction Psychiatry Education.
"We're so excited to have Dr. Abe Farhat as our addiction medicine fellow this year," said Dr. Balasanova. "As a family medicine physician, Abe brings to us a wealth of experience from primary care, where we know up to 25 percent of chief complaints involve mental health concerns, including substance use. Abe has jumped right into both clinical and didactic learning, and we look forward to a fulfilling year ahead together."
He has been seeing patients and even joined a research team.
"After just a few weeks, I told my wife that I, 100 percent, made the right decision," Dr. Farhat said. "The fellowship is completely different from residency in many good ways."
IgSk k DQ d gSdU AaY