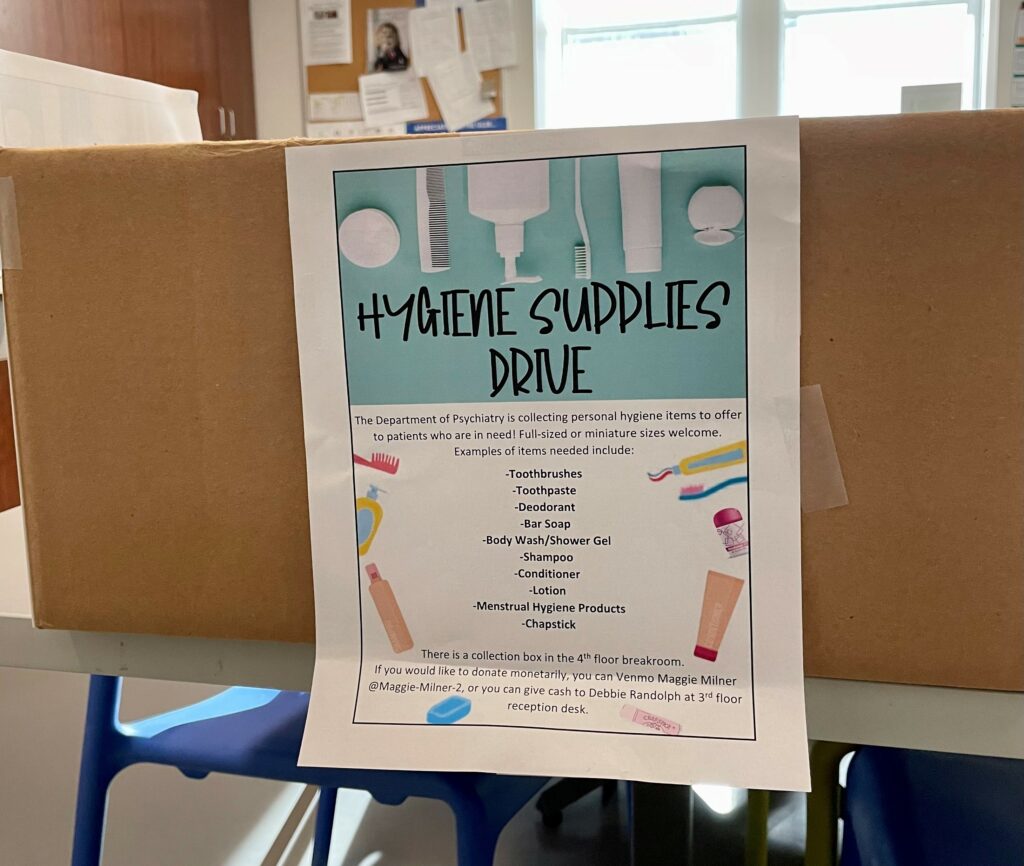 The Department of Psychiatry continues to collect hygiene items and donate them to its patients to meet their ongoing needs.
The items collected include toothbrushes, toothpaste, deodorant, bar soap, body wash/shower gel, shampoo, conditioner, lotion, feminine hygiene products, and Chapstick.
While the department collects items at the third floor front desk throughout the year, in August, there was a huge push with collection boxes throughout Poynter Hall. Maggie Milner, BSN, MSW, and medical assistant Kira Gee helped lead the efforts.
"The hygiene collections drive was more successful than we could have imagined," Gee said. "We had to do some re-arranging in my office to accommodate for the plethora of goodies. But honestly, what an awesome problem to have!"
Milner said the collection started a few years ago during social work month (March), as the social workers were looking for a worthy cause to help celebrate what it means to be a social worker.
"At that time, we collected a number of items ranging from toothpaste/toothbrushes to deodorant and shampoo," Milner said. "We put the items in small baskets in the rooming offices and made them visible to patients with a sign that encouraged patients to take what they need without having to ask. We thought this would lessen or eliminate any embarrassment or shame someone might feel. This was so successful; we have continued to provide these items since that time. These items are 100 percent donated by our staff and faculty."
Along with staff members donating items, some employees donate money to the cause. Once the money is collected, volunteers go shopping.
"Many shop at discount stores like the Dollar Tree which allows them to purchase a lot of product at minimal cost," Milner said.
After a couple years of telehealth visits, in-person visits are rising. Milner said the donated items are going fast and more donations are needed. If anyone can help, items can be donated at the front desk on the third floor of Poynter Hall.