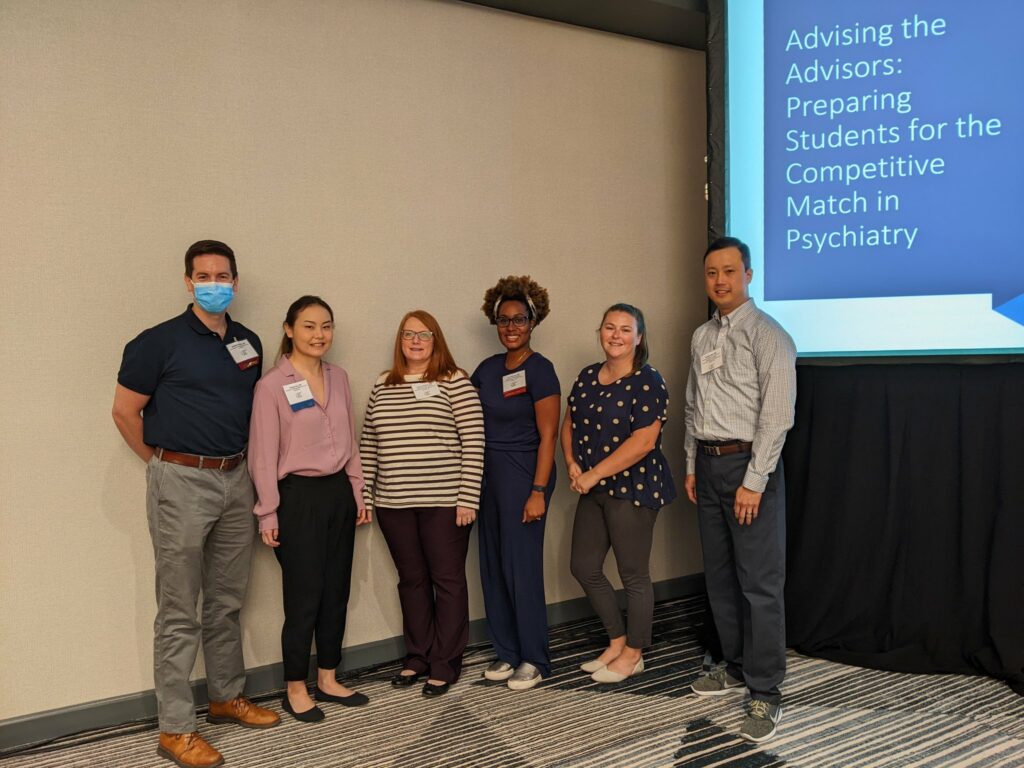 The 2022 Annual Meeting of the Association of Directors of Medical Student Education in Psychiatry (ADMSEP) conference took place last month in Austin, Texas. The UNMC Department of Psychiatry brought a large group of faculty, residents, and students.
Generally, a large number of UNMC faculty members (nine in 2022) and students (four) attend the conference each year, which has fostered many long-term connections and collaborations. Department faculty member Daniel Gih, MD, said he saw many good friends for the first time since the group met three years ago in Portland, Maine. 
"It's so much easier to connect," said Dr. Gih, Education Director for the Department of Psychiatry. "The last two conferences were done virtually, and, honestly, it's no different than Zoom meetings we've had throughout the year. Being able to shake someone's hands or go in for a hug and re-connect with people you haven't seen for a couple of years was wonderful."
Gih believes UNMC's out-sized presence at ADMSEP showcases the importance the department places on mentoring and educating the next generation of psychiatrists.
Dana Raml, MD, helped run a program titled "From Deer in the Headlights to Empowered Upstander: An Interactive Workshop." Jeana Benton, MD, helped medical students with her workshop, "Certainly in the Top 10% of Letters I've Seen: Crafting a Strong Letter of Recommendation.," and Howard Liu, MD, MBA, discussed "Joining the Great Resignation? Thriving in Leadership Roles after Clerkship Director."
Four members of the UNMC Department of Psychiatry ran a plenary, a meeting attended by all conference members, on the topic of "Advising the Advisors: Preparing Students for the Competitive Match in Psychiatry." Dr. Gih, Dr. Benton, residents Nina Luo, DO, Matt Kelly, MD, and UNMC Department of Psychiatry Residency Coordinator Ellie Corbaley led the vital discussion.
Medical students Alex Maben, Kalika Mahato, Brandon Lew, and Mark Carter attended the conference with the financial support of the department. Dr. Gih said he hopes continued student support to attend conferences leads to future doctors picking psychiatry as the specialty in residency.

UNMC Psychiatry Department members hold or have held many leadership positions with ADMSEP. Dr. Raml chairs the membership committee, and Ellie Corbaley, UNMC Department of Psychiatry Residency Coordinator, serves as an administrative coordinator within the organization. Along with those current roles, Carl Greiner, MD (2006-07), and Dr. Liu (2020-21) have served as president of ADMSEP, and Dr. Gih previously chaired the Clinical Simulation Initiative (which Dr. Liu co-created)
"UNMC and ADMSEP have had a strong working relationship for decades," Dr. Liu said. "We always have the largest contingent of attendees. It shows how important medical education is and how much we want to train the next generation of psychiatrists."