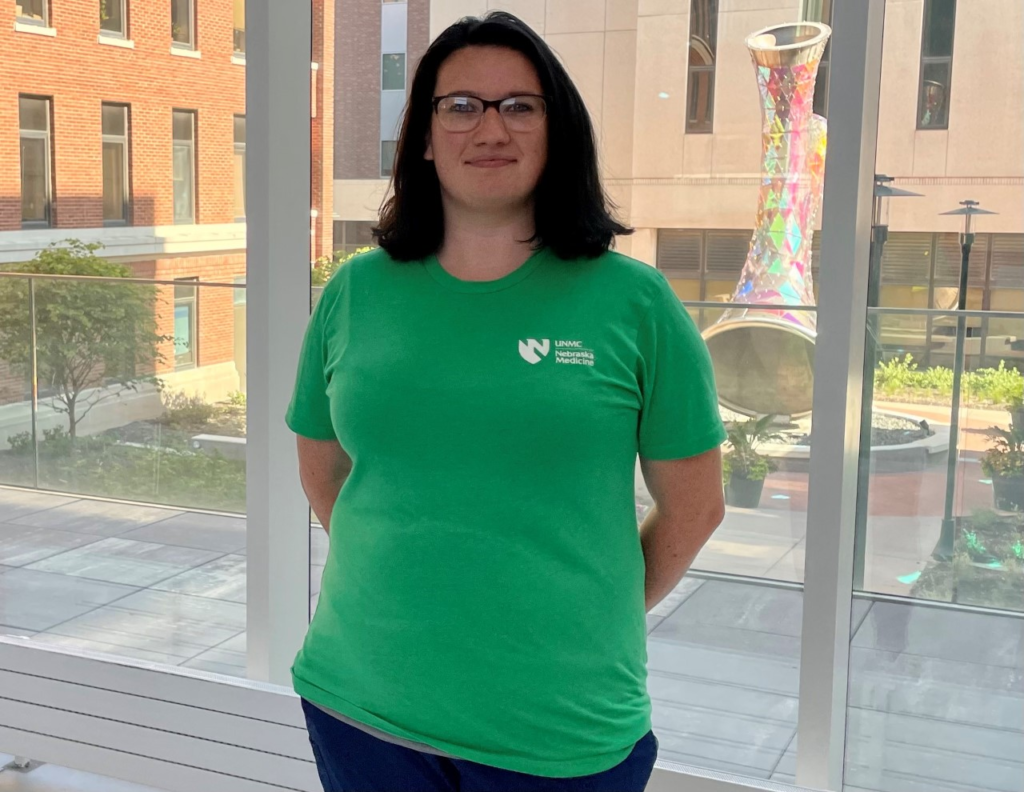 Mallory Eddy, CNA
Born and raised in Omaha, Mallory worked as a shift lead and pharmacy tech for three years at Walgreens and then four years in childcare before becoming a CNA in 2020. Mallory said she knew she wanted to work at Nebraska Medicine after the tremendous treatment she received while recovering from a 2014 car accident.
What made you want to work in the Department of Psychiatry?
I knew I wanted to help people in any way I could. Looking through the job opportunities at Nebraska Medicine, psychiatry grabbed my attention. My heart told me that was where I needed to be. I had my interview, and that confirmed it. I love what I do and the people I work with every day. I know we are making a difference in our patients' lives, and I enjoy seeing our patients happy and healthy.
What are your job duties with the Department of Psychiatry?
I'm a full-time CNA and part-time Phlebotomist in adult psychiatry. I obtain vitals from patients before their appointments and draw labs. I also assist in calling our patients the day before their telehealth appointments to get them roomed.

I work on the 5th Floor of Poynter Hall with multiple providers. I coordinate the offices for the providers so that they know which office to use for the day to see their patients in person. In addition, I'm a listening ear to anyone who needs to talk, and I help problem solve any issues that may arise. 
What are your future goals with the Department of Psychiatry?
My goal is to become an RN and continue the care for my patients here in the Department of Psychiatry. I applied and was accepted for the Medical Support Assistant Program through Nebraska Medicine, which started earlier this year. I will be completing the course in November after clinicals. I am also registered for classes starting in August at Southeast Community College to complete the required classes to begin the LPN program in January. Once I have graduated with my LPN, I plan to continue my education, accomplishing my goal of becoming an RN.
What are some of your hobbies?
Outside of work and school, I make candles and wax melts. I have been part of multiple craft fairs and have even more planned. I enjoy being crafty and creative in any way I can. My younger sister plays softball, and I enjoy attending games to support her.
cCScSAflRnhG xZeqvfQ