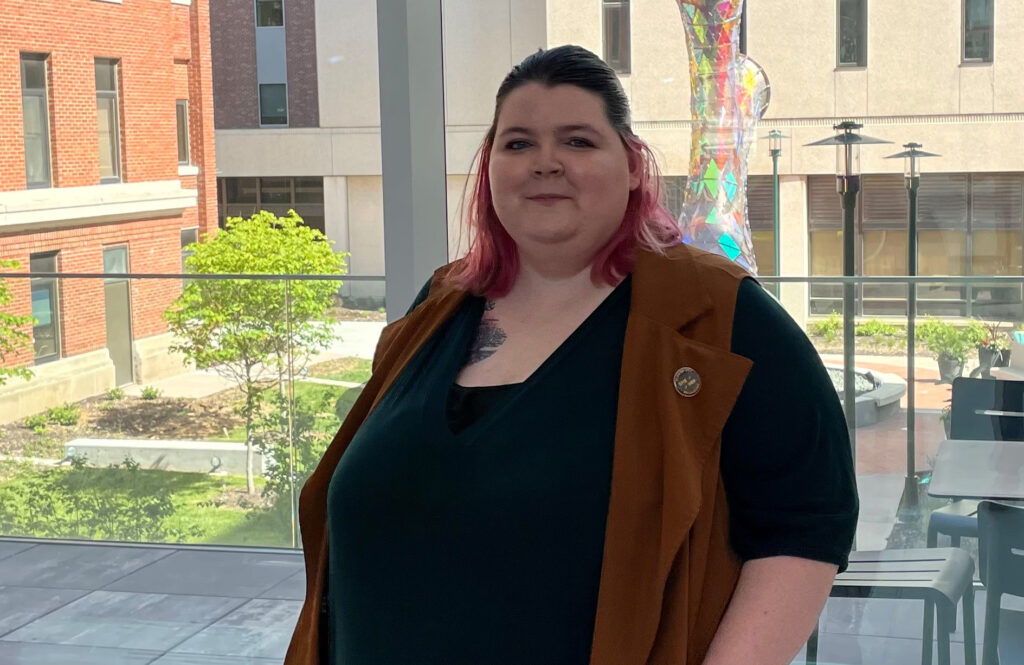 Office Associate, DEI
Meg comes to UNMC after working as a Medication Access Coordinator with Nebraska Medicine. She grew up in Bellevue and earned a bachelor's degree in Behavioral Sciences from Bellevue University.
What made you want to work at UNMC?
There are a few things I know to be true. First: You put one foot in front of the other, and soon you'll be walking out the door (sung by Kris Kringle to help the Winter Warlock). Secondly, you don't know, what you didn't know, until you knew it. Now do something about it. Point? I sat in on a meeting, one of which I truly wasn't planning on being an active listener. It was one that I signed up for and thought it would make a great working meeting (I think we have all been there once or twice). This meeting was one of the presentations during Women's History Month, and the conversation that happened during this time stood out to me. I didn't know, what I didn't know, tell I knew it. I didn't know that I virtually joined a meeting that day that I needed. I didn't know that I would leave that meeting in a state of self-reflection.
I, like many, have goals. I am constantly grasping for those benchmark things and questioning my steps along the way. This brings me back to "Put one foot in front of the other." I had already been working for an amazing organization that had taught me that I am more than the sum of its parts. We all fall at times and scrape our knees, but it is how we handle getting back. Given opportunities that I did not think I was ready or worthy of earning. Opportunities to see how both sides worked, to hear stories of victories and challenges from different perspectives. To grow, learn, and explore all those opportunities I never would have fathomed before stepping foot in the door. Those things mesh together to form my "Why" behind wanting to work for UNMC. To put one foot in front of the other, to continue to learn all the things I don't know, and the change of perspective.
What are your job duties for the DEI department?
Tetris, I think that might be the best one-word answer anyone could give that would sum up my job duties. I could say things like providing administrative support for the Office of Inclusion, Office of Equity, and the Inclusion and Equity Council. Serve as a key contact for requested special programs and conferences—scheduling and assisting with coordination of unit meetings, seminars, and activities. I think Tetris fits better, though; the game, in itself, is genius. To have no other purpose than getting blocks to fit together, it in itself, is a basic concept. I am new to this position, though, so the reality of the action is different from where Tetris may be a basic concept. There are so many different aspects or "pieces" that go into a day. From people, ideas, conversations, and interests. I think that's where Tetris comes to play, like putting together a complicated puzzle.
What are some of the upcoming goals of the DEI Department? 
The first time I heard of the OOI and OOE goals, I was in a DEI mixer, from the outside looking in. I remember thinking that UNMC had so many different outlines and goals that they were working towards. I still feel like I am on the outside looking in (first month and all) and still equally impressed by all we have our sights on. From the 4 C's: Communication, Connection, Collaboration, and Community. How are these indeed the baseline of building inclusive excellence at UNMC? From enhancing recruitment, engagement, and mentorship to developing and promoting anti-racism programs. Being an environment welcoming to all allows individuals to be their authentic selves. As well as share those practices that improve the culture of equity, inclusion, and diversity. I am getting everyone together and ensuring they have support, information, and a place to be themselves.
What are some of your hobbies? 
I don't think I have hobbies; instead, I think of the word fluid when I look at my life and interests. I am constantly exploring new likes, interests, and curiosities. Some stay with me for a while, while others come and go in the wind. For me, it's more entertaining to constantly be exploring all those things I do not know versus sticking with just one or two things.