Margaret "Mags" Elmore was born in Georgia and moved to Nebraska in 2017. She graduated from UNMC with her BSN in May 2020. Mags worked in the medical surgical division at the VA before moving on to work inpatient psychiatry at BTNRH. She joined the UNMC/Nebraska Medicine Department of Psychiatry in November 2021. Mags is a newlywed. She got married on March 11, 2022
What made you apply to work at Nebraska Medicine?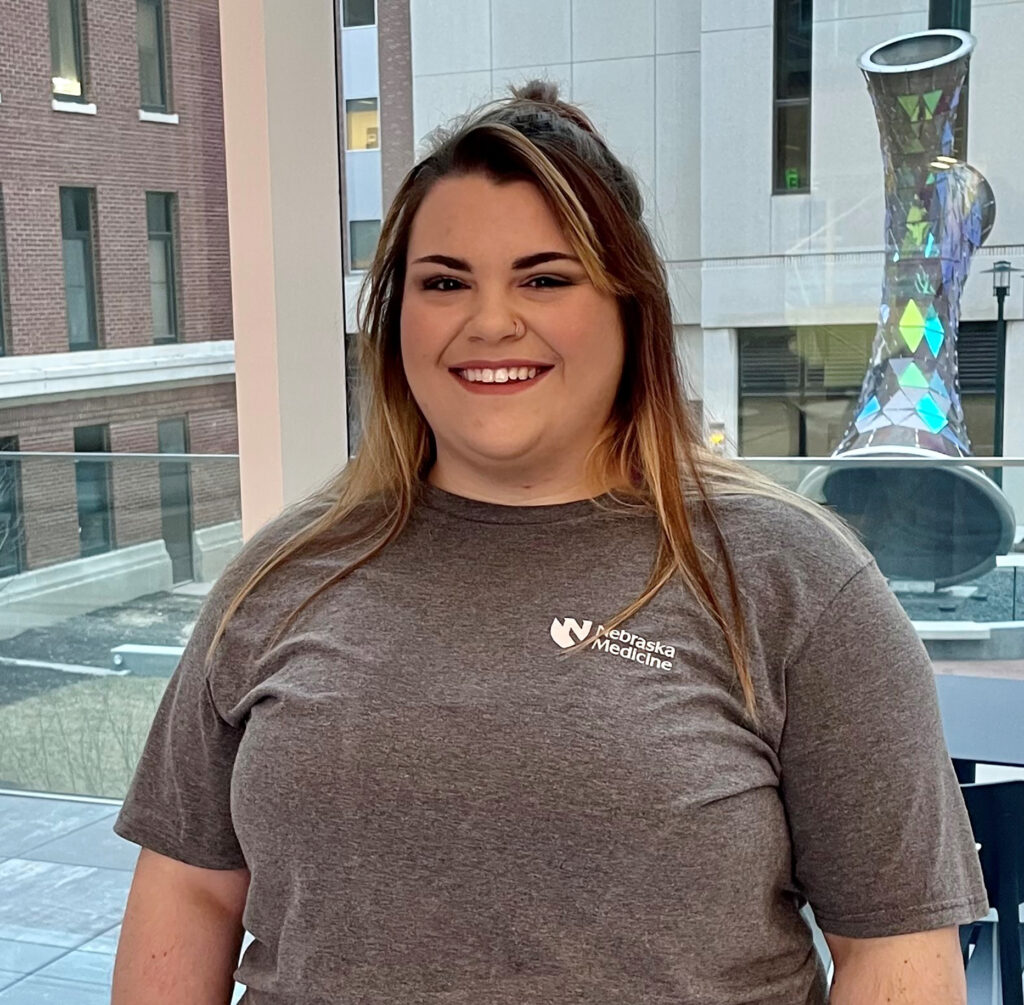 When I was in school at UNMC, I remember thinking that the nurses working at Nebraska Medicine were kind and supportive of each other. When I was looking for jobs that would allow a better work-life balance, I immediately started combing through the Nebraska Medicine openings hoping to find a position that would satisfy my passion and provide a supportive work family/environment. I think I found it.
What made you want to work in the department of psychiatry?
Psychiatry has always been a passion of mine since I was a teenager. I grew up with a very emotionally and financially abusive family and suffered a great deal of trauma from them in my late childhood/early teen years. The cycle of abuse continued in my first marriage but escalated greatly. I knew when I graduated school that I wanted to use my past experiences overcoming abuse, depression, anxiety, and functioning in a society where mental health still sits on the back burner to help others overcome and cope with their own obstacles and learn to thrive in this world.
What are your favorite parts of working in the department of psychiatry?
The staff are extremely supportive, kind, empathetic, and function extremely well as a team. I love the communication between providers, nurses, PCTs, scheduling staff, and receptionist. The culture is not one of hierarchy but one of teamwork, equity, and patient-centeredness. I feel every staff member is truly geared toward helping our patients to the best of our abilities.
What are some of your hobbies?
I'm a jack of all trades and master of none. I have been playing piano and singing since I was 8 years old. It's my favorite way to relax and decompress after a stressful day. On occasion, I am known to dabble in painting and oil pastels to create "art". When the weather is nice (which let's be honest, is rare in Nebraska), I like to go on long walks with my daughter, dogs, and husband. Other various activities you may find me participating in or talking about include baking, cake decorating, cooking, weightlifting, and reading.