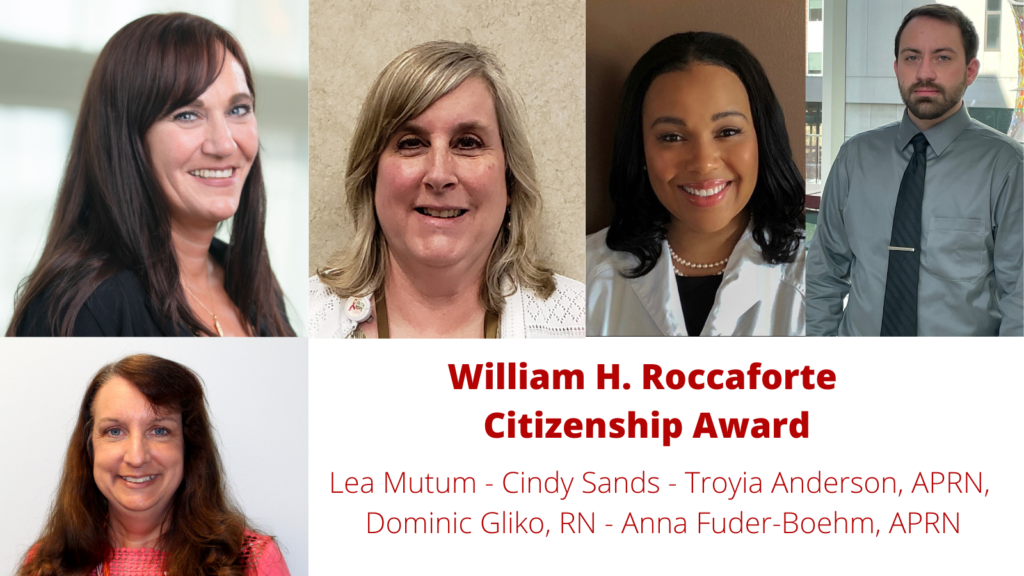 The Department of Psychiatry presented Troyia Anderson, APRN-NP; Anna Fuder-Boehm, APRN-NP; Dominic Gliko, RN; Lea Mutum and Cindy Sands with the William H. Roccaforte Citizenship Award or "The Rock" on Jan. 21. The awards go each year to employees, who exemplify a spirit of service, extraordinary teamwork and the passion to go above and beyond each day in service of our mission.
Mutum, Department of Psychiatry HR Coordinator, said she is blessed to work for a great department and feels honored to be recognized and nominated for the Roccaforte Award.
Sands, Department of Psychiatry Clinic Operations Lead, said she's truly blessed with a great team that makes it easy to come to work every day.
"I was honored to be a recipient of this award," Sands said. "I'm passionate in achieving the best that I can be daily in my role as Clinic Operations Lead which means being a team player, listening to staff's needs and keeping a positive attitude."
Gliko, who joined the Psychiatry Department in May 2021, said he was incredibly honored to be recognized with the Roccaforte Award, especially during a pandemic.
"Navigating the dynamic situation of the pandemic has been, needless to say, challenging," Gliko said. "The ongoing nursing shortage certainly adds to the seemingly growing list of stressors. But having the support from my colleagues has greatly contributed to my resiliency and motivation to continue thriving and providing the highest quality of possible care I'm capable of. I genuinely cannot express my gratitude enough for the growth, both personally and professionally, being a part of this department has brought me."
Fuder-Boehm said the award meant a great deal.
"I feel honored that my colleagues took the time to nominate me for this. They are all very busy and wonderful people to work with and to know that they stopped and thought about me brings joy to my day," she said. "Receiving this award has renewed my motivation and passion just at a time when I was struggling more to keep up with the demands of not only the work we do here but with supporting others in our community through this difficult time. Thank you so much for the honor."
The William H. Roccaforte Citizenship awards were first handed out in 2019.
"Citizenship is often assumed but not recognized," Howard Liu, MD, MBA, Chair of the Department of Psychiatry. "We could not do our work without people going the extra mile from our psych emergency to our outpatient clinics!"