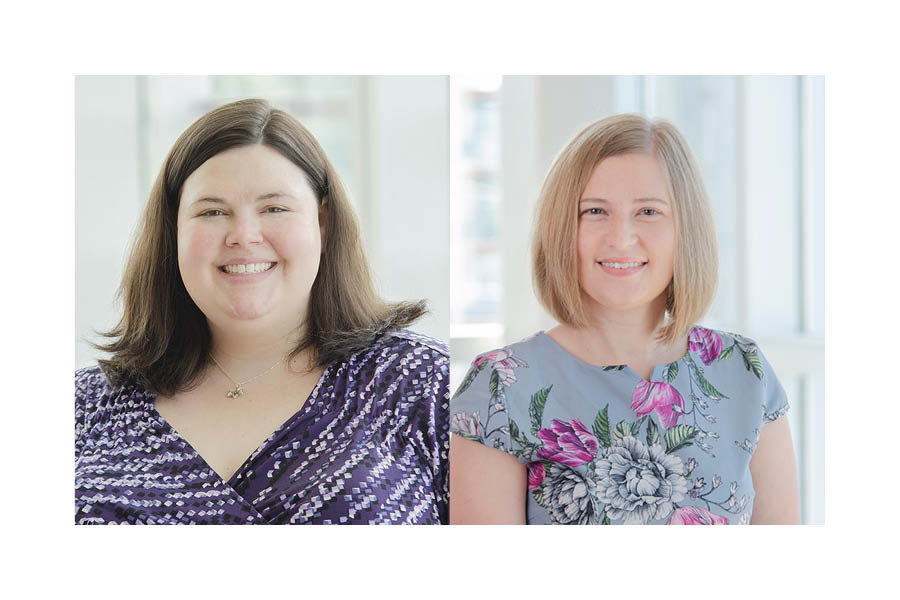 UNMC psychiatrists Riley Machal, MD, and Melissa O'Dell, MD spend much of their clinical time with the ACT team at Community Alliance.
Community Alliance is a mental health agency which offers a wide array of services geared toward helping adults with serious mental illness thrive in the community, including Omaha's only ACT team. ACT (Assertive Community Treatment) is an interdisciplinary, team-based model of care for adults with serious mental illness, and often co-occurring substance use disorders, whose needs cannot be met in traditional outpatient care settings.
"In ACT we place a strong emphasis on recovery-oriented, strengths-based and person-centered approaches to care. As a team we interact with our clients multiple times per week in a variety of community settings." Dr. O'Dell explained.
Following the January 16, 2020 death of Community Alliance full-time Psychiatrist Nathan Bruce, DO, Dr. O'Dell was asked to fill his vacancy as the ACT team psychiatrist.
"Anyone who knew Dr. Bruce will tell you his shoes are impossible to fill, but having had the benefit of working under his supervision at ACT for two years, I was better prepared than most to step into the role," said Dr. O'Dell. "For the first few months, with the team and our patients acutely grieving Dr. Bruce's loss, me only being able to devote two days a week to what is really a full-time position, and then the onset of the coronavirus pandemic forcing us to throw everything we do into a new risk-benefit calculator, it was an uphill battle for the team to regain its footing and get back to providing the high level of care our clients need and deserve."
In August, Dr. Machal joined UNMC and the ACT team. Dr. O'Dell she was thrilled to have Dr. Machal join the team. Dr. Machal said it was an easy decision.
Drs. O'Dell and Machal share clinical duties, which include seeing patients (sometimes in their homes), providing education and support to the team, crisis intervention, overseeing the treatment planning process, and supervising residents.
"ACT is the most intensive treatment patients can receive while out of a hospital or partial hospitalization setting," Dr. Machal said. "Having an ACT team available in Omaha allows for more people to stay healthy with fewer hospitalizations."
Dr. O'Dell said she's excited to welcome several new Creighton residents to the team: Dr. Rebecca Leval, Dr. Amanda Emmert, Dr. Ruben Solis, Dr. Geoffrey Allison, and appreciates the continued dedication of Dr. Rocky Esteraich, PGY-4.