Dr. Melissa O'Dell will join the UNMC Department of Psychiatry faculty this summer.
Dr. O'Dell, who graduated from Omaha Central High School in 2003, said she's thrilled that an opportunity arose for her and her young family to stay in her hometown.
"It's home, and I love it. I had no desire to leave Omaha," Dr. O'Dell said. "I feel lucky to find a job that's such a good fit at UNMC."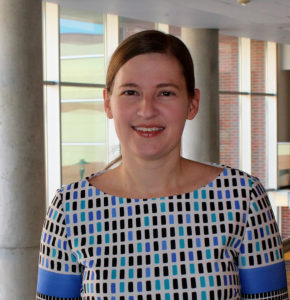 Dr. O'Dell will join UNMC as an instructor and will split her time between Poynter Hall and Charles Drew Health Center. 
"My area of interest is serious mental illness," Dr. O'Dell said. "At some point, I hope to start a first-episode psychosis team and continue to develop services across the spectrum of care for people suffering from psychotic disorders. It's a terribly underserved population. These patients often need a lot of services besides medication in order to achieve meaningful recovery."
Dr. O'Dell has previously worked St. Anthony's Regional Hospital in Carroll. Prior to medical school, she worked as a case manager for adults with serious mental illnesses, and she has enjoyed her time as part of Community Alliance's ACT teams.
Dr. O'Dell joins Dr. Steven Ayers, Dr. Andrew Baumgartner, Dr. Dana Raml and Dr. Mark Thompson as fourth-year UNMC-Creighton psychiatry residents who accepted faculty and clinical positions with UNMC.
"It's a big honor, and we're all excited to call each other colleagues going forward," Dr. O'Dell said. "For a lot of people when you go from your training to your life as an attending there seems to be a sense of isolation and a sense that you're losing your support system. I feel fortunate that I don't have to experience that. The transition should be a lot easier with my previous relationship with my new colleagues and the faculty at UNMC."
Dr. O'Dell will join the UNMC faculty on July 31, 2019.
FgDkPPB N iCAhfn