Arica Lerdahl
Research Assistant
What are your duties as a research assistant?
We are currently working on two studies. I work on recruiting subjects for each study and coordinating their appointments. I also score the forms that the subjects fill out and organize the data we collect. For one of the studies, I also assist with the MEG and fMRI scans as needed.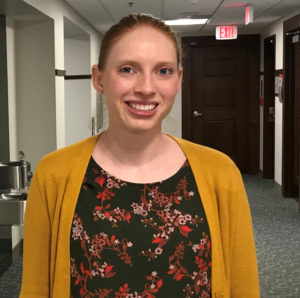 Why did you go into research?
Research of all kinds has always fascinated me. Our medical care wouldn't be where it is today if it wasn't for researchers conducting their studies. I love that working in research has the potential to give more insight and improve the medical care provided to patients.
Why did you go into the area of Psychiatry?
I think mental health is very important and yet one of the most neglected areas in medicine. In college, I attended the summer BHECN College Ambassador Program. I also shadowed one of the psychiatrists in the Child and Adolescent Psychiatry Clinic. I had wonderful experiences both times and I was very excited when I saw a research position available in the Psychiatry Department.
What are some of your hobbies?
I spend most of my free time playing with my son and our two dogs. When he is sleeping, I like to bake, read, and do crafts. I also love to travel, and I have a passion for coffee. When we travel, I always find the local coffee shops and try them out.