Alёna A. Balasanova, MD, FAPA is the Nebraska delegate to the Young Physicians Section of the AMA, where she also serves on the Strategy and Leadership Committee.
At the AMA Interim Meeting November 8-13 in National Harbor, Maryland, Dr. Balasanova authored a resolution to promote the use of clinically accurate, nonjudgmental terminology related to substance use disorders and addiction. The resolution was passed as amended by the YPS and will be introduced to the AMA House of Delegates at the 2019 Annual Meeting in Chicago.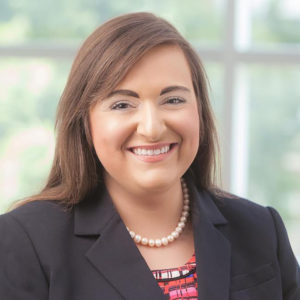 Earlier this year, the Nebraska Medical Association House of Delegates voted unanimously to pass Dr. Balasanova's resolution "Destigmatizing the Language of Addiction" which was introduced on behalf of the Metro Omaha Medical Society.
"The words that we choose to describe our patients' illnesses are more than simply being politically correct– they both implicitly and explicitly convey judgment and can actually impact the quality of care that we provide to our patients," said Balasanova. "I am delighted that this important topic is being addressed by our AMA and the house of medicine."
The AMA is the nation's oldest and largest professional medical society. It represents over 200,000 physicians in the U.S. and is influential in setting public health policy.
Dr. Balasanova is a board-certified psychiatrist with clinical expertise in integrated treatment for co-occurring psychiatric and substance use disorders. Dr. Balasanova is actively involved in program development for education and training of residents and medical students. She is the founder and director of the Longitudinal Integrated MH/SUD Outpatient Clinic (LIMSOC), a comprehensive clinical experience for 3rd year psychiatry residents at Nebraska Medicine. Clinically, Dr. Balasanova directs Nebraska Medicine's Addiction Services Outpatient Clinic, an integrated care model providing concurrent treatment for co-occurring psychiatric and substance use disorders.