By Megan Frazee, DPT, and Marcela Williams
The Orthopedic Physical Therapy Residency is pleased to announce that the program recently received full initial accreditation from the American Board of Physical Therapy Residency and Fellowship Education (ABPTRFE) through January 2028. This 13-month, post-professional training program includes a structured didactic curriculum, clinical practice and weekly one-on-one mentoring at Nebraska Medicine's Lauritzen Outpatient Center, observation with physicians and other rehab providers, teaching in the area of orthopedics, and completion of a scholarly activity project.
Each year, up to two residents are accepted into the program, that starts around the first of August. The inaugural cohort of residents, Renee Herbers and Caleb Nabower, graduated on August 19th, 2022 and the current orthopedic resident, Hena Ybay, is scheduled to complete all program requirements on August 18th, 2023. Graduates of an accredited physical therapy residency program qualify to sit for that specialty's board examination and have higher first-time pass rates than non-residency graduates.
The accreditation process is a highly structured process, that formally started at UNMC in 2020, as the residency was being developed. Accreditation focuses on assuring programs deliver, and participants complete, quality programs to support continuous improvement that enhances patient care and advances the profession. The ABPTRFE Quality Standards provide programs with a framework to demonstrate and communicate their commitment to physical therapists through the achievement of its mission, goals, and outcomes.
Betsy Becker, DPT, PhD, Chair of the Department of Health and Rehabilitation Sciences and Program Director for the Physical Therapy Program, thanked Residency Program Director Megan Frazee, DPT, Residency Clinical Coordinator Mike Wellsandt, DPT, and everyone involved in the accreditation process. Dr. Becker also added, "Our residency program advances opportunities in Nebraska to help grow the availability of orthopedic physical therapy clinical specialists in our area. Thank you to all who contributed to reach this milestone."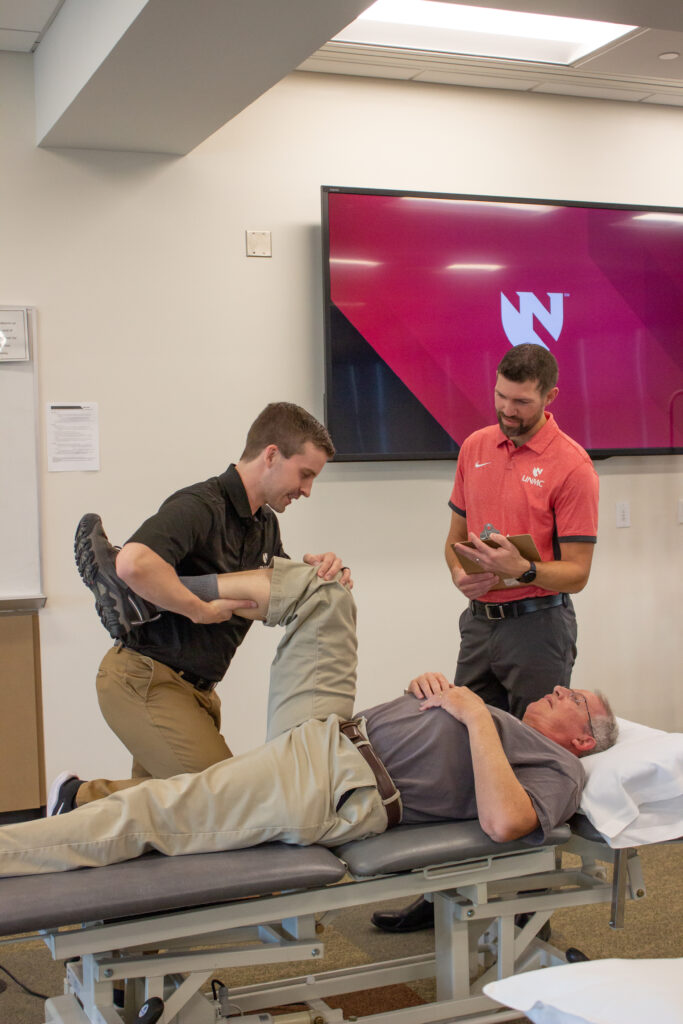 Dr. Frazee also expressed gratitude to everyone involved in the process. "Creating the first physical therapy residency program at UNMC involved multiple stakeholders who have been involved in the development and accreditation process," she said. "From College of Allied Health Professions and Nebraska Medicine leadership, to the individual faculty, staff, and residents, this was a collective effort."
Amy Collison, Manager of Rehabilitation Sciences at Nebraska Medicine's outpatient rehab department is "extremely grateful for the opportunity to participate in the UNMC's orthopedic residency program. The collaboration between Nebraska Medicine and UNMC has been beneficial to both the residents and our physical therapists. Teaching opportunities with the residents has contributed to the professional growth of our therapists. The combination of clinical experience from our therapists and fresh perspectives from the residents has resulted in innovative care for our patients. We are thankful to have the residents in our clinics; their quest for knowledge is infectious."
For more information, please visit the Orthopedic PT Residency website.