Genetic Counseling Course Director Brianna Rezich was recently presented the Genetic Counseling 2022-2023 Outstanding Supervisor Award. This was given at the program level, but she will also be recognized at the Annual Conference for the Association of Genetic Counseling Program Directors (AGCPD) and at the annual education conference for the National Society of Genetic Counselors this September.
Comments from student nominators:
"Brianna has helped me to build my confidence as a genetic counselor. She is a wonderful role model when it comes to how to build relationships with other providers. Brianna pushed me to challenge myself and take on new skills and explain information in new and engaging ways. I also appreciate that she always seemed to see me as more than just a student!"
"Brianna provides great feedback and has a willingness to brainstorm ways to improve. She was great at pushing me during a clinic case and although it was scary in the moment, I think that helped me grow."
"Brianna is a phenomenal supervisor who helps her students grow and develop throughout their rotations while providing guidance and constructive feedback. She continuously checks in to see how we are doing and is very aware that clinic rotations are only part of the program. She is great at finding a balance, which can sometimes be challenging."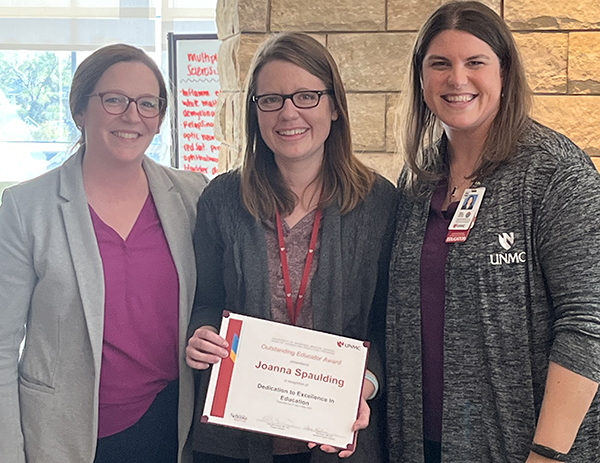 In addition, the UNMC genetic counseling program awarded courtesy faculty Joanna Spaulding the 2022-2023 Outstanding Educator Award for her Dedication to Excellence in Education.
Comments from student nominators:
"Joanna put so much consistent effort and detail into our coursework. Her feedback on assignments helped me improve my knowledge and skills. I often think back to her classes and feel thankful for everything I learned. Her teaching was an essential part of building my knowledge base in genetics, and I use what I learned frequently in my clinical work."
"Joanna is an incredible teacher. She always made time to meet with students one-on-one when we were struggling and didn't stop when we were confused, she figured out different ways to explain the concept or different ways for us to practice!"
"Joanna should be recognized as contributing so much to my development as a genetic counselor. Her classes were very challenging and at the moment they caused me a lot of stress, but they made the transition to looking at patient lab reports and understanding the genetics behind genetic conditions so much easier."