by Abbey Kegley
Rebecca Higgins is an Allied Health student in the Physical Therapy program set to graduate in May 2025. She received her Bachelor of Arts in Psychology and Bachelor of Science in Exercise Science from Concordia University-Nebraska. Rebecca's decision to pursue physical therapy came after her own numerous encounters with physical therapists through her life, and her community instilling in her the value of giving back to others.
"I love helping people and wanted to be a part of getting people back on their feet. Physical therapy allows me to build quality relationships with my patients and get them back to being independent and doing what they love the most."
Raised on her family's ranch in between Valentine and Thedford, she recognizes the difficulty and necessity of serving rural communities.
"I know from personal experience what [it] is like to travel at least an hour to see a physical therapist or a doctor, and travel even further to access specialty care such as orthopedic surgeons. For people that don't work typical 9-5 jobs, because caring for livestock and crops doesn't always work within that schedule, [that] can make these challenges even greater."
Throughout high school, Rebecca kept herself involved in both sports and drama, but now dedicates her time outside of the classroom to spending time with friends and family, playing intramural sports, and cooking. It is her family, in fact, that she says inspires her most.
"They are the most loving, supportive, and encouraging people in my life. I am who I am because of them."
Since starting her Physical Therapy program, Rebecca has enjoyed meeting new people with whom she can grow as a professional and says her favorite place to study is the Michael Sorrell lounges next to the windows. If Rebecca had one piece of advice to tell a student like herself entering a medical program, it would be to embrace the challenge.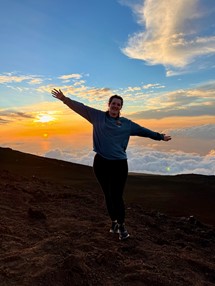 "Academically you will likely be challenged in a way you never have before. Socially, it will challenge you to prioritize the things that matter the most to you. Personally, it will challenge you to discover yourself, identify your weaknesses, and ultimately help you grow into a better version of yourself."
For more Allied Health Student Spotlights, or to learn more about our various programs, visit UNMC's Allied Health Professions website, blog, and social media: Facebook and Twitter.